Cheung Kong's Victor Li Says Open to Sale of City Buildings
By
CK Property will keep Cheung Kong Center, deputy chairman says

Company will pursue global investments: Chairman Li Ka-shing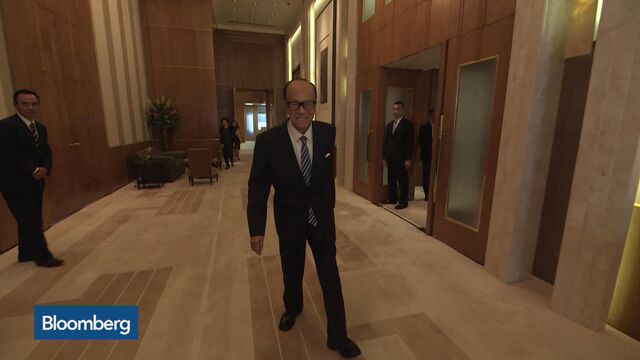 Billionaire Li Ka-shing's Cheung Kong Property Holdings Ltd. signaled it's willing to part with some buildings in Hong Kong, as it seeks to lessen dependence on a market where sales have plummeted.
"I always look at deals, it's my job to look at deals, both purchases and sales," Deputy Chairman Victor Li told analysts Thursday when asked if he would consider selling commercial buildings, according to a recording of the briefing. "There is no deal that we must have, there is no property we must own, other than this building -- we do need an office ourselves," he said, referring to the Cheung Kong Center where CK Property has its headquarters.

Just over one year after it was spun off from Cheung Kong (Holdings) Ltd., the Li family is looking to expand beyond the city where CK Property was founded. The company's shares dropped on Friday after Li reiterated his bearish outlook for the local property market.
His comments came after Li's father, billionaire Li Ka-shing, the company's chairman, said in a statement to the Hong Kong stock exchange that the group was looking for growth beyond Hong Kong, its traditional base.
"As it is presently challenging to identify property investments with reasonable returns in the current cyclical stage of the property market, the Group will also pursue global investments to extend our reach to new business areas," the elder Li said in the statement.
Apart from Cheung Kong Center, CK Property's commercial portfolio includes Hutchison House and The Center in the Central business district on Hong Kong Island, and The Harbourfront in Kowloon, across the harbor.
Not Optimistic
At the briefing, the younger Li painted a bleak picture for the city, where sales declined 16 percent to HK$8.7 billion ($1.1 billion) in the first half. "We are not changing our view," he said. "I can't paint you an optimistic, not bearish angle."
He also said the company was not looking to buy new land for development as margins on land purchases are "at an unhealthy level."
He said the company was looking to expand into non-property businesses outside Hong Kong, without providing concrete details. "I can't tell you too much now, it is going to be complementary to our property portfolio," he said.
Profit Jumps
On Thursday, the company reported first-half profit before investment property revaluation of HK$8.3 billion ($1.08 billion), 51 percent higher than a year earlier.
Mainland China overtook Hong Kong as the major source of sales revenue in the first half, jumping from 34 percent to 60 percent. Li told analysts that two property investments in London would in the next couple of years contribute "sales and profit margins comparable or even better than Hong Kong."
The shares slumped as much as 4.2 percent on Friday, the most since June 24, after it rallied as much as 49 percent from this year's low in January. They were 3.2 percent lower at HK$55.25 as of 1:28 p.m. in Hong Kong Friday. The stock is up 10 percent this year, compared with a 3.8 percent increase in the benchmark Hang Seng Index.