Brexit Bulletin: BOE's Vicious Circle
by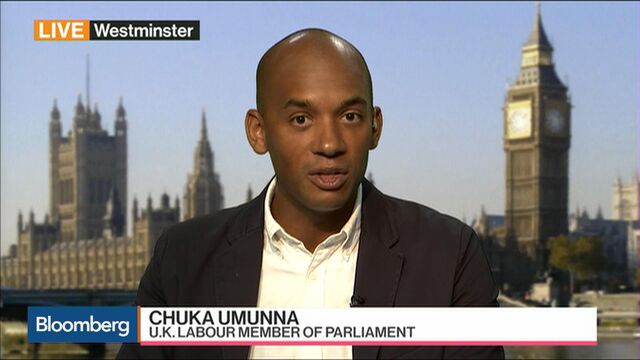 Sign up to receive the Brexit Bulletin in your inbox.
Brexit, and the Bank of England's response to it, is catching pension funds in a vicious circle.
The Bank of England's bond-buying is pushing down yields, leaving pension managers and insurers more desperate to hang on to the relatively high-yielding long-term bonds they already own. That's forcing the BOE to bid higher prices to get hold of the securities, pushing yields down even further.
Bloomberg's Anchalee Worrachate asks here whether debt purchases aimed at stimulating the economy actually risk becoming part of the problem.

BOE action is also making U.K. stocks look almost more attractive than ever compared with gilts, Bloomberg's Justin Villamil reports. Companies in the FTSE All-Share Index return 3.8 percent in dividends, near an all-time high relative to 10-year gilts.  That's happening even as rising share prices reduce the dividend yield.

"Some people argue equity valuations are high, but they should be high because the alternatives to equities are not that good," said Chris Darbyshire, chief investment officer at Seven Investment Management LLP in London. "An equity gives you some risk of losing money, obviously, but potential for growth and it gives you a much better dividend. As long as the economic world doesn't end, equities will stay more attractive than bonds."



 
Add construction to the list of industries affected by Brexit. Data today shows building output shrank in June, as companies were reluctant to commit to projects before the vote. Survey data suggests the worst is yet to come.
Don't Blame Brexit 
Are Brexcuses getting out of hand? Bloomberg Gadfly's Lionel Laurent argues it's time to stop blaming Brexit for the chill in the U.K. property market.  London prices already looked stretched before the referendum, while real-estate booms are also running out of steam in other countries, Laurent writes.  
View: Europe Needs to Break Up So It Can Stay Together
Shock, Horror
Food, construction and hospitality companies are worried about how they will run their businesses if Brexit puts an end to freedom of movement, according to a study by the National Institute of Economic and Social Research. Employers, who expressed "shock" and "horror" at the referendum result, think a points-based system won't work for low-skilled jobs and fear a visa system will be unwieldy.  
"The outer's view is that migration will stop and we'll suddenly have a sensible level of tens of thousands net migration," NIESR quoted an unnamed bakery CEO as saying. "Whereas anybody I know who works in a food manufacturing industry is thinking 'oh crikey, if that happens, we're going to be seriously stuffed in terms of what we can do to make food,'" said the executive, whose 280 staff include 168 EU migrants.
On the Markets
Global stocks were headed for the biggest weekly gain in a month as a rebound in oil prices bolstered investor confidence amid signs economic growth outside of the U.S. remains lackluster. Sterling was on track for its second weekly loss, trading below $1.30.  
And Finally...
Brexit may be good news for comedians. Performers have been mining Brexit for laughs at the Edinburgh fringe, Britain's late-summer festival of theater and performing arts. And the shows are getting top marks, according to the Guardian, which says comedian Bridget Christie gave her best performance yet. 

Fellow comic Matt Forde, a former Labour Party adviser, said Brexit was a bit of a "godsend," according to the newspaper.
For more on Brexit follow Bloomberg on Twitter, Facebook and Instagram, and see our full coverage at Bloomberg.com
Before it's here, it's on the Bloomberg Terminal.
LEARN MORE