pursuits
U.S. Retail Sales Stall as Auto Dealers' Gain Is Others' Pain
By
U.S. Retail Sales Stall as Auto Dealers' Gain Is Others' Pain
By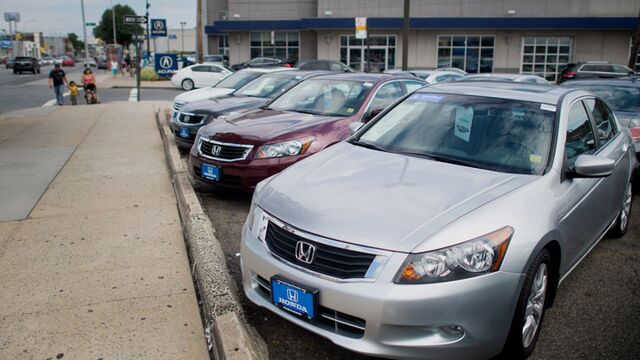 Sales at U.S. retailers were little changed in July as Americans flocked to auto dealers at the expense of other merchants.
The stalling of purchases followed a 0.8 percent gain in June that was stronger than initially estimated, Commerce Department figures showed Friday in Washington. The median forecast in a Bloomberg survey called for a 0.4 percent rise in July. Excluding cars, sales retreated 0.3 percent, the most since the start of the year.

Improving car sales drained enough cash from consumers' accounts to cause demand at eight of 12 other major retail categories to fall. While households have been bolstered by higher stock and home values, stronger wage growth would go a long way in improving purchasing power.
"It is a bit disappointing, at least to start the quarter," said Kevin Cummins, an economist at RBS Securities Inc. in Stamford, Connecticut. "Labor income is the key. Confidence seems to be moving sideways."
Estimates in the Bloomberg survey ranged from no change to a 0.9 percent gain. June's reading was revised from an initially reported 0.6 percent increase.
Another report from the Labor Department showed wholesale prices unexpectedly fell in July by the most in almost a year, a sign inflation is likely to stay muted. The 0.4 percent drop in the producer-price index, the biggest since September, followed a 0.5 percent gain the prior month.
Cheaper Fuel
Gasoline service station receipts dropped 2.7 percent, while sales weakened at sporting goods and hobby outlets, department stores, clothing merchants and restaurants.
Core sales, the figures that are used to calculate gross domestic product and which exclude such categories as auto dealers, gasoline stations and building materials merchants, were also little changed last month after 0.5 percent increase in June.
Purchases at service stations fell 2.7 percent last month, the most since February. The Commerce Department's data aren't adjusted for changes in prices, so fluctuating fuel costs can affect filling-station receipts. Sales of food and beverages at grocery stores declined 0.6 percent.
At motor vehicle dealers, purchases improved 1.1 percent, the most since April, after a 0.5 percent advance.
The figures were in line with industry data. Sales of cars and light trucks climbed to a 17.77 million annualized rate in July, the strongest in eight months, according to Ward's Automotive Group figures.
— With assistance by Alexandre Tanzi