Style
What to Wear This Weekend: White Denim Pants
Our weekly guide to looking good, even on your days off.
By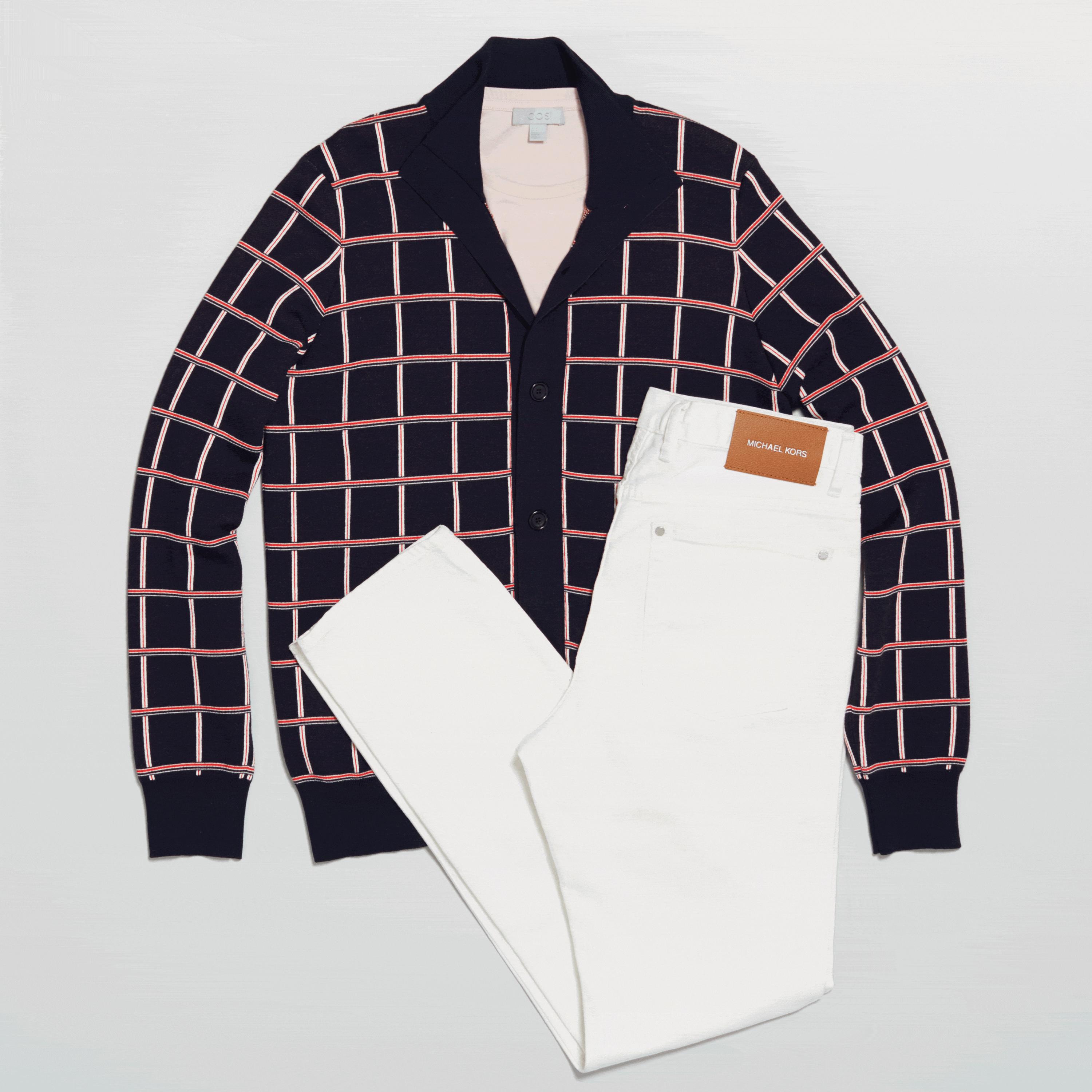 For this week's edition of our summertime style series, in which we select a standout item for your wardrobe and build an outfit around it, we tackle the thorniest of hot-weather topics: white pants. 
Alternately beloved and besmirched, there's no denying a flash pair is a seasonal staple. You just have to be in the right mindset to rock it.
If you haven't taken the plunge, this clean and crisp denim pair will get you there. And if you're one of those guys who boldly bought some white pants in spring, yet still hasn't figured out a way to incorporate them among your weekend wear, don't worry—you have a few weeks left to get it right before Labor Day. (You non-Americans out there, feel free to continue while the weather's warm.) 

After a week in the office, you'll want to ditch the chinos and opt for more casual denim. This Michael Kors pair is slim-fit and tapered at the bottom, which is key when wearing white. Even if you're sporting your best summer bod, unfitted white clothing almost always leads to an unflattering look. Give yourself enough of a rolled cuff to show a little ankle—and don't forget your Tide pen. ($145, michaelkors.com)

The key to wearing white pants is contrast up top, lest you're going for the whole cult-member vibe. This windowpane cardigan from Louis Vuitton provides a nice graphic pop, although you could also go simpler and wear a light-colored linen button-down shirt—as long as it stands out against the white. ($975, louisvuitton.com)

This pale colored T-shirt from COS is neutral enough to go with almost anything, but the lighter color will look especially summery against a white denim background. If you opt not to get the cardigan above, it will work equally well layered under a blazer. ($19, cosstores.com)

Persol offers some of the most classic and luxury shades in the market, such as this modern update to the Clubmaster with half tortoise-shell frames. Given white pants aren't an everyday occasion, these sunnies have the advantage of working perfectly with a variety of outfits. ($315, sunglasshut.com)

The S stands for steel in this new Polo S timepiece, a sporty riff on a classic Piaget that speaks its credentials softly. Because the last thing you need when wearing white pants is a flashy gold brick on your wrist. ($9,350, piaget.com)
After a workweek spent in leather dress shoes, more forgiving slip-on sneakers are weekend manna. These suede basketweave leather kicks by Armano Cabral mix casual cool and elegant craftsmanship. Barefoot or no-show socks are the only way to go here. ($495, armando-cabral.com)

Brown belts are a great compliment to white, and thanks to Gucci's new creative director, Alessandro Michele, this updated GG belt can be an equally bold complement to your wardrobe. His redesigned logo is still new enough to look more like an abstract shape than a label everyone has. ($420, gucci.com)
Before it's here, it's on the Bloomberg Terminal.
LEARN MORE