U.K. Stocks More Alluring Than Ever as BOE Sinks Gilt Yields
By
Stocks/bonds trend more pronounced in U.K. than other markets

Analysts project earnings growth in the next three years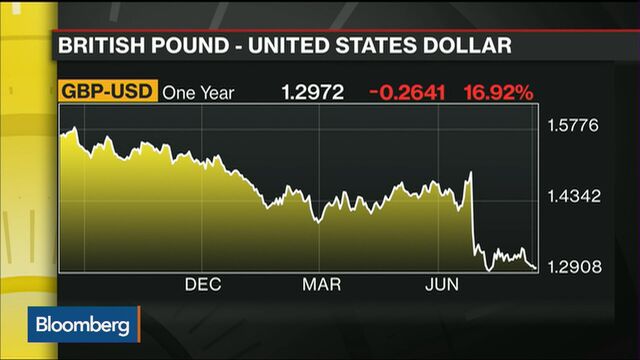 With the Bank of England's increased stimulus crushing government-bond yields, U.K. equities are becoming even more irresistible.
Companies in the FTSE All-Share Index return 3.8 percent in dividends, near an all-time high relative to 10-year gilts. Thanks to BOE Governor Mark Carney's measures to support the domestic economy in the wake of the U.K.'s vote to leave the European Union, megacaps benefiting from a weaker pound are no longer the only drivers of the market. The country's mid-cap companies have jumped to their highest levels in more than a year and small caps to a record.
The decline in bond yields is making them less attractive to some investors particularly compared with stock dividends, which remain relatively high even as equities have become some of the biggest gainers among developed-market equities this year. At the same time, Brexit fears are easing, with companies such as Associated British Foods Plc and GlaxoSmithKline Plc raising their earnings forecasts amid a lower sterling, while security company G4S Plc said it didn't see a significant effect from the secession vote.
"In the U.K. equity market, everybody is worried about the impact of Brexit," said Richard Marwood, a senior fund manager who helps oversees about 88 billion pounds ($114 billion) at Royal London Asset Management Ltd. His firm is underweight gilts and overweight global equities. "We've had an awful lot of companies reporting lately, and almost all of them have said they haven't seen any negative impact yet. If dividend growth can be maintained, then equities look like a very attractive prospect relative to bonds."
After the BOE this month cut its key interest rate for the first time in seven years and began its expanded bond-purchase program, yields on 10- and 30-year securities fell to records. While the dividend yield on U.K. companies has also dropped with rising stock prices, FTSE All-Share Index companies still offer 3.3 percentage points more than 10-year debt. Insurers Aviva Plc and RSA Insurance Group Plc are among companies that raised payouts this month.

The U.K. is not the only market where stocks are attractive relative to bonds. The trend is similar in the U.S., albeit to a lesser degree: S&P 500 Index company payouts are about 0.5 percentage point higher than 10-year Treasury rates.
On the flip side, the demand for British stocks has made them expensive. The FTSE All-Share Index, within 2 percent of a record, trades at 16.1 times estimated profits. That's near its highest-ever multiple versus the Euro Stoxx 50 Index.
So far, that hasn't stopped investors from piling in, lured by prospects of better profits and speculation that central-bank stimulus will help the economy. While analysts forecast an earnings contraction at FTSE 100 Index companies in 2016, they project growth of more than 13 percent in each of the following three years. Options traders are paying record prices to bet on further gains, relative to bearish contracts.
"Some people argue equity valuations are high, but they should be high because the alternatives to equities are not that good," said Chris Darbyshire, chief investment officer at Seven Investment Management LLP in London. His firm oversees 10 billion pounds. "An equity gives you some risk of losing money, obviously, but potential for growth and it gives you a much better dividend. As long as the economic world doesn't end, equities will stay more attractive than bonds."
Before it's here, it's on the Bloomberg Terminal.
LEARN MORE