markets
U.K. Labour Debate Plunged Into Darkness as Corbyn, Smith Clash
By
'Shall we continue in the dark,' Corbyn says as lights fail

Rivals differ on nuclear weapons, strategy for Brexit talks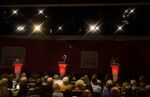 The lights failed at the U.K. Labour leadership contest's second debate, plunging party leader Jeremy Corbyn and challenger Owen Smith into darkness as they clashed over nuclear weapons and Britain's strategy in negotiations to leave the European Union.
"If our message to the world is… that the lights have gone out… shall we continue in the dark or what?" Corbyn said as he answered a question on nuclear weapons, which he would unilaterally scrap and Smith said he'd retain as a bargaining to chip to persuade other nations to disarm. "There are serious opportunities to promote all of this," Corbyn said of his strategy.
The two lawmakers then joked in the darkness at the hall in Gateshead, northeast England. "I'm the tall one, in case anyone is wondering," said Smith. "Let there be light," urged Corbyn, who was then forced to wait some moments longer for the lights to come back on.
The episode -- described by Corbyn as "comedy gold" -- risks being seen as a metaphor for Labour's fortunes after the party turned on itself following the U.K.'s referendum on EU membership. A TNS poll of voting intentions on Thursday put the ruling Conservative Party on 39 percent, ahead of Corbyn's party on 26 percent. That's Labour's lowest share in any poll while in opposition since 1983, Matt Singh of Number Cruncher Politics said on Twitter.
The next general election isn't due until 2020.
Resignations
Dozens of Corbyn's frontbench team, including Smith, quit their posts in the wake of the Brexit vote, citing a loss of confidence in Corbyn's ability to sway the electorate. Corbyn then lost a no-confidence vote among his lawmakers by 172 votes to 40, before Smith launched a formal leadership challenge.
The debate moderator, Sophy Ridge of Sky News, followed the blackout with a question on climate change and the U.K.'s energy supply "crisis," which both candidates said should be addressed with renewable energy.
As well as nuclear weapons, the candidates clashed over Brexit, with Corbyn saying politicians should accept the referendum result, and Smith contending that once a new relationship has been negotiated with the other 27 members of the EU, it should be put to the public in another referendum.
Smith said the British government needs to work in partnership with businesses to create jobs and growth, especially in Wales, where he is from, and northeast England, where the debate was held. Corbyn said Britain should follow the example of Germany by investing in manufacturing and new technologies, and said the country had become a "overdependent on financial services."
While Smith said he'd offer Corbyn a place on his team if he became party leader, Corbyn said he'd have no room for his opponent.
Before it's here, it's on the Bloomberg Terminal.
LEARN MORE