markets
Five Things You Need to Know to Start Your Day
Get caught up on what's moving markets.
By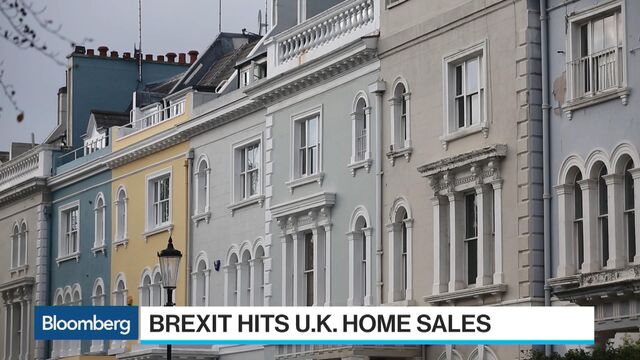 Want to receive this post in your inbox every morning? Sign up here.
Brexit hits the U.K. housing market, the IEA sees the oil glut easing, and Valeant is under investigation. Here are some of the things people in markets are talking about today.
Brexit hits housing
The Royal Institution of Chartered Surveyors' latest data on the U.K. housing market showed sales declining at the fastest pace since the financial crisis. Prices of properties that did sell continued to rise, albeit at the slowest pace in three years. Meanwhile, U.K. stocks fell for the first time in six days this morning, as housing-related equities were hit following the release of the report. The pound is also lower, trading at $1.2966 as of 5:55 a.m. ET.
IEA sees oil glut easing
The International Energy Agency predicted that oil markets will continue to rebalance this year with increased demand from refiners set to reduce the overhang from record Gulf output. The agency said that the rebalancing may not be enough to significantly increase U.S. shale production, which it estimates needs prices closer to $60 a barrel to boost activity. West Texas Intermediate for September delivery lost as much as 61 cents to reach $41.10 a barrel before recouping the loss and trading at $41.68, as of 5:59 a.m. ET.
Valeant under investigation
There's never a dull moment at Valeant Pharmaceuticals International Inc., which saw its shares post their biggest intraday gain ever on Tuesday. After the bell yesterday the company said that it is cooperating with a criminal probe by federal prosecutors, who are investigating whether the drugmaker defrauded insurers by hiding its ties to a mail-order pharmacy. Shares plunged as much as 13 percent in late trading following the news.
Investors still want sovereign bonds
We've learned this week that bond market investors still want U.S. Treasuries, and don't want to sell U.K. debt. Yesterday, the U.S. Treasury sold $23 billion of benchmark 10-year debt, drawing a yield of 1.503 percent, the lowest in four years. For the U.K., where the Bank of England failed to find enough willing sellers to fill Tuesday's reverse auction, the spread between U.K. and Japanese 10-year bonds has fallen to a record low. The record low yields may just be a sign of a temporary summertime lull in trading, but it could also point to a lack of reasonable alternatives for investors. 
Markets mixed
Overnight, the MSCI Asia Pacific Excluding Japan Index fell 0.3 percent, with Japanese markets closed for a holiday. In Europe, the Stoxx 600 Index was 0.4 percent higher at 6:15 a.m. ET, amid continued thin August trading. S&P 500 futures were up 0.3 percent.
What we've been reading 
This is what's caught our eye over the last 24 hours.
Before it's here, it's on the Bloomberg Terminal.
LEARN MORE