Turkey's Erdogan Can't Afford Abrupt Pivot Into Putin's Embrace
by , , and
Erdogan visit prompted speculation on big geopolitical shift

Trade flows, military links still keep Turkey bound to West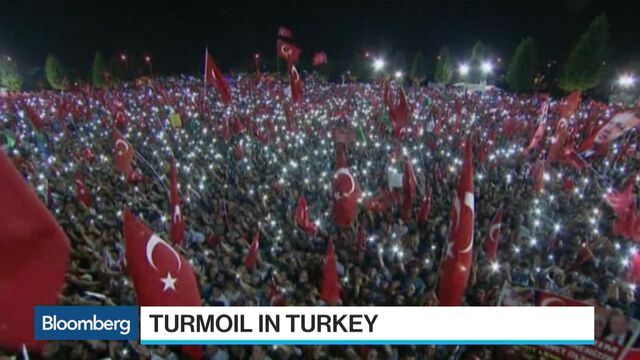 President Recep Tayyip Erdogan appears to be shunning the West, by picking Russia as his first overseas destination since surviving a coup attempt and calling Vladimir Putin his "dear friend" during the visit. Symbolism aside, Turkey is too intertwined with its old allies to drop them.
Trade between Turkey and the European Union was worth $147 billion last year. With Russia it was a mere $24 billion, according to data from the International Monetary Fund. That hard economic fact belies some of the proclamations -- "New World Meeting" and "Russia Spring," hailed two Turkish pro-government newspapers -- and damps for now speculation about a giant geopolitical shift.

Put simply, Erdogan can't afford it and much of his popularity stems from his economic record bringing prosperity to a country often spoken of as a bridge between the East and the West because of its strategic location, yet where conflict brews between the forces of secularism and Islamism, democracy and autocracy.
"Several hard realities entrench Turkey in the western orbit and not in Russia's,"such as membership of NATO and reliance on U.S. and European technology for its military hardware, said Chatham House's Turkey analyst Fadi Hakura. Also, "Turkey depends on global financial speculative flows, so-called hot money, to fund its international obligations, and a vast majority of that comes from western financial markets."
The size of the trade with the EU is such, he says, that Russia cannot replace the West when it comes to Turkey's economic future. Nevertheless, Russia is a crucial energy supplier for Turkey.
Turn East
The pivot east, toward a country that has turned its own back on the West, has gained momentum since last month's failed attempt to overthrow the government. Erdogan embarked on a purge of alleged plotters, pouring scorn on Western leaders who reacted coolly to his clampdown.

Most surprising has been how quickly the rapprochement came about. It was only in November that Turkey shot down a Russian jet near the border with war-ravaged Syria. Left out in the cold by international and European sanctions, Russia has been scouting for deeper economic connections outside the Western orbit. Turkey's talks to join the EU have made little progress after more than a decade of negotiations.
NATO Notices
The burgeoning relationship has not escaped NATO, formed as a bulwark against Soviet aggression in the aftermath of World War II. The day after Erdogan's trip to St. Petersburg, the North Atlantic Treaty Organization called Turkey a "valued ally" and said its permanence in the military alliance was "not in question."
Asked whether Turkey was rethinking its strategic direction, Erdogan's spokesman Ibrahim Kalin told reporters after the Erdogan-Putin encounter that the "fundamental point" being conveyed was "disappointment" that Western allies failed to offer enough support following the coup attempt.
Still, Kalin also underlined that Turkey's ties with the rest of the world "don't make up a zero sum game" and that improving ties with Russia "isn't an alternative to the West." He called it empowering.
Given their history -- theirs were competing empires dating back centuries -- Russia and Turkey are unlikely to be able to sustain an alliance in the long term, according to Wolf-Fabian Hungerland, an economist at Berenberg Bank in Hamburg, Germany. Fundamental differences persist, not least over the war in Syria, where they're backing opposing sides.
That's not to say the EU can just sit back, what with the scale of the refugee crisis at its borders. The EU and Turkey agreed in March to stem migrant flows through nearby Greece, a deal which European officials fear may now be in jeopardy.
Erdogan's flash of defiance and independence served as "a warning shot for the EU," Hungerland said. "Ankara has some bargaining power with the roughly three million refugees in Turkey."
What is apparent is that Putin saw an opportunity to drive a wedge and seized it. Not one European leader has visited Turkey since the attempt.
"They called by phone. OK, we thank you," Kalin, Erdogan's spokesman said. "But at critical times such as these, it shouldn't be excessively difficult to visit Turkey."
Before it's here, it's on the Bloomberg Terminal.
LEARN MORE