A Really Vicious Circle Is Threatening U.K. Pension Pots
By
Bank of England's QE shortfall this week seen as stress signal

Pension managers, insurers emerge as part of vicious circle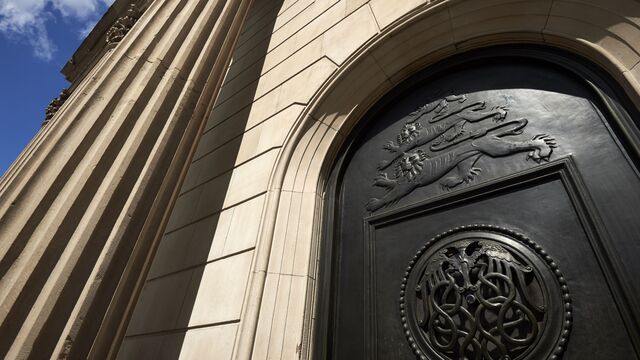 As the Bank of England seeks to ease Brexit angst by injecting money into the U.K. economy, pension managers and insurers are finding themselves caught up in a vicious circle.
Britain's new quantitative-easing program, combined with monetary easing around the world, is crushing yields, leaving these long-term investors ever more desperate to hold on to their 20-, 30- and 50-year bonds to meet return targets and liabilities. That forces protagonists like the BOE, which is buying 60 billion pounds ($78 billion) of government debt over six months, to bid higher prices -- driving yields down even further.
This may explain the crunch this week, when the central bank failed to find enough investors to sell it longer-maturity gilts, the part of the debt market dominated by pensions and insurers. While the revival of QE is intended to reduce the risk of a Brexit-fueled slump, the shortfall raises the question of whether debt purchases with newly created money are becoming part of the problem as well as the solution.
"We recognize the Bank's concern and the need to protect the economy," said Helen Forrest Hall, defined-benefit policy lead at the Pensions and Lifetime Savings Association in London. "But the challenge we have is that the QE programs do have an impact on pension funds' liabilities."

U.K. pension funds use bond yields as a so-called discount rate to gauge their future obligations. By this formula, a drop in yields leads to an increase in liabilities. While selling gilts at higher prices would generate a profit for the funds, it would leave them with cash that would need to be reinvested into a shrinking pool of assets offering a sufficient return. Regulations require that defined-benefit retirement plans, which the Pension Protection Fund estimates at 1.4 trillion pounds, meet their liabilities.
Pension deficits rose to record 408 billion pounds in July, according to the Pension Protection Fund, an industry agency monitoring risks faced by 5,945 plans in the U.K. That left the funding ratio at 77.4 percent, the lowest since 2012.
"The issue is whether people can afford to sell them," said Mike Amey, a London-based money manager at Pacific Investment Management Co. "What you have is this very large insurance industry and pension fund industry that need to buy these bonds and hold on to them. And the regulation environment prevents them from selling them."
No Shortage
The irony is that there is no shortage of long-dated bonds in the market. Gilts with maturities greater than 15 years account for about 41 percent of total U.K. government bonds outstanding. Those due in three to seven years made up 23 percent.
Some analysts blamed the shortfall of sellers of long-maturity debt on a summer lull. Yet that didn't explain why, on the day before and after the failed QE operation, the BOE got a surplus of offers when it tried to buy shorter-dated notes. Each operation was for 1.17 billion pounds of securities.
The 30-year gilt yield plunged about 0.25 percentage point this week to 1.24 percent. That's down from a 4.69 percent in February 2010, the highest closing level reached since Britain's QE began in March 2009.
And that's not all. The collapse in long-dated gilt yields means reinvesting maturing securities is also getting more painful. Pension managers who bought government bonds maturing in 2046 bearing a coupon of 4.25 percent a decade ago will struggle to find anything near that level today. A 3.75 percent gilt due in 2052 yields about 1.18 percent. On some of the shorter maturities, yields have dropped below zero.
The scenario suggests something may have to give for the central bank to complete the QE program, be it a change in the maturities it buys, alterations to the way pension funds' liabilities are calculated, or some other alternative.
No Deal
"It will be a challenge," said Mark Dowding, a partner and money manager at BlueBay Asset Management in London. "We are in a situation where pension funds are almost buying bonds against their best judgment because they are obliged to do so. The Bank of England should perhaps consider skewing their purchase towards the shorter-dated gilts."
The central bank cut growth forecasts in its latest analysis on Aug. 4 after signs that Britain's decision to leave the European Union is starting to take a toll on confidence and business activity. The Monetary Policy Committee's measures introduced on the same day included the first rate cut since March 2009, a plan to buy 60 billion pounds of government securities, as much as 10 billion pounds of corporate bonds in the next 18 months and a potential 100 billion-pound loan program for banks. Governor Mark Carney declared that all elements of the stimulus can be taken further.
Fresh QE
The BOE kicked off the new round of bond purchases this week and the results point to more willing sellers for shorter maturities.
It was bombarded with offers for the three- to seven-year bucket as well as the seven- to 15-year maturities. But for its purchase of bonds with maturities longer than 15 years, the so-called cover ratio was 0.96 times. The central bank was forced to buy up the amount offered, some of which was at above-market prices. The BOE said it will cover the 52 million-pound shortfall at a later date.
"This problem is not going to go away," said John Anderson, a portfolio manager at Smith & Williamson Investment Management. "The BOE cuts its base rate closer to zero, which means that many holders of bonds are forced to hold onto them and must not sell. Then it tries actually to buy off these same institutions and then wonders why no one wants to sell to them."