Second Summer Break for Golfing Abe Sends Message on Time Off
By
Japan's prime minister returns to lakeside summer home

Abe has vowed to curb long working hours in economy plan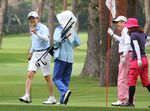 Japanese Prime Minister Shinzo Abe is making his government's campaign for better work-life balance a personal one: he went back to his vacation home in the mountains west of Tokyo this week for a second summer break.
Having spent eight days last month at his residence near Lake Kawaguchi, 100 kilometers (62 miles) from the capital, he returned there on Tuesday, according to local media. Apart from war-end commemorations on Monday, he has no official engagements until the closing ceremony for the Rio Olympics Aug. 21.
That's more than two weeks off, making it the longest summer vacation for a premier since Junichiro Koizumi was in office more than a decade ago, the Nikkei newspaper said.
Abe's escape from the city heat comes as the government extols the need for changed working practices, in part to bolster the fertility rate and pull more women into a shrinking labor force. Efforts to curb excessive working hours have been welcomed by economists, though it could be years before results are seen.
Changing Lifestyles
"The government is asking women to work and raise children at the same time," said Masamichi Adachi, senior economist at JP Morgan Securities in Tokyo. "If you don't change the lifestyles of both women and their husbands, you cannot make this target achievable."
The average Japanese worker takes 8.8 paid days off a year, less than half the average entitlement of 18.4 days, according to a government survey. In an economic policy package published last week, the Cabinet Office vowed to tackle long working hours and enable more people to work remotely as part of its target of sustaining the population around 100 million.
Motosada Matano, director of global communications in Abe's office, said work reforms are a bigger initiative than just getting people to take vacations.
Still, "taking longer vacations has long been strongly recommended in our government and has become our common practice," he said. "It's good for promoting tourism as well."

Keidanren, Japan's most powerful business lobby, joined the campaign by sending out a notice last week appealing to members to get their employees to take more time off -- specifying at least four days in a row.
Even so, a government panel on working practices will probably steer clear of pushing for the market deregulation that could boost labor mobility, improve productivity and spark innovation.
"Prime Minister Shinzo Abe is pursuing work reform, not labor market reform," Tobias Harris, a Japan analyst with Teneo Intelligence in Washington, wrote in a recent research note. Reform of working practices "refers to issues like equal pay for non-regular workers, teleworking, overtime pay, parental and family leave policies, and skill formation, but not fundamental labor market issues like hiring and firing practices or seniority versus merit pay."
Businesses may also be less receptive to ideas about tackling the pay differential between lifetime employees and other workers, Harris said, and employers would likely fight any changes that raise their costs.
Yuichiro Mizumachi, a Tokyo University professor specializing in labor law who served on a government panel on labor reform in 2013, said there would be debate on setting a legal upper limit on working hours.
'Run Counter'
"Measures to increase labor mobility could lead to employment instability and a temporary fall in consumption," Mizumachi said. "That would run counter to Abe's economic policies, so I don't think the panel will discuss them in concrete terms."
While Abe may be relaxing more this summer, he tends to use part of his break to confer with advisers and supporters. 
Chief Cabinet Secretary Yoshihide Suga meanwhile has maintained his reputation for shunning holidays. As the premier took to the golf course in blue shorts on Wednesday, Suga met with Okinawa Governor Takeshi Onaga to discuss a dispute over a U.S. military base.
— With assistance by Emi Nobuhiro, Yoshiaki Nohara, Andy Sharp, and James Mayger
Before it's here, it's on the Bloomberg Terminal.
LEARN MORE