Scandal at Fox Gives James Murdoch New Chance for Redemption
by
Fast Ailes ouster contrasts with slow response to U.K. hacking

'Why didn't they know? Should they have known?' expert asks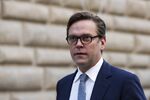 If the scandal surrounding Roger Ailes has a silver lining, it may be for James Murdoch.
It's been a year since Murdoch, 43, assumed the role of chief executive officer at 21st Century Fox Inc. from his father Rupert and several more since he stepped down from a top job at the family's other company, News Corp., over his handling of a phone-hacking scandal at the News of The World newspaper.
Yet the newly minted CEO's management of the latest controversy -- the sexual-harassment allegations brought against the boss of its profitable Fox News Channel -- potentially casts him in a more positive light. By launching an internal investigation and quickly replacing the 76-year-old Ailes, his father's friend and the channel's chairman, James Murdoch is showing he's learned from the criticism British regulators leveled four years ago when he led News International.
"He was swift in response, it was not left to fester, there was no cover-up," said Claire Enders, CEO of the independent media industry research firm Enders Analysis Ltd. "He is cutting loose on an old pal of his dad's as fast as possible and in the right way."
Still, fallout from the accusations against Ailes may not be over. Fresh claims of sexual misconduct have arisen since former Fox News anchor Gretchen Carlson filed her lawsuit against the news executive, and it's possible more disclosures will put the company's handling of the crisis in a harsher light.
Denies Misconduct
Ailes has denied any misconduct and has said he'll contest Carlson's claims. Fox rejects comparisons between the Ailes scandal and the hacking incidents, pointing to its fast response to the Carlson lawsuit. James Murdoch shares responsibilities at the company with his older brother Lachlan, 44, Fox's co-chairman along with Rupert.

A spokesman for 21st Century Fox has said the company only recently learned of a $3.15 million settlement in 2011 of harassment allegations against Ailes by former Fox News employee Laurie Luhn, as reported by New York magazine. Fox News has said the settlement was "decided solely" by Ailes.
"As to Ms. Luhn, Mr. Ailes denied these allegations in 2011 and he denies them now," Ailes's lawyer, Susan Estrich, said in an e-mail. "He did not sign the settlement agreement. He wishes Ms. Luhn well."
A judgment can't be made until the facts become public, said Charles Elson, director of the John L. Weinberg Center for Corporate Governance at the University of Delaware. "Why didn't they know? Should they have known?" he asked.
Back in 2012, British officials were asking similar questions and the outlook for James was bleak. Revelations that News of The World employees had hacked into the voicemail of celebrities and other public figures cost him his job at News International. In addition, he had to step down as chairman of Sky Plc, and News Corp. in mid-2011 had to abandon its $12.6 billion bid for the satellite TV service.
At the time, News Corp. said the allegations that James failed in his duties as a director weren't backed by evidence. Ultimately the Murdochs weren't accused of wrongdoing, and no charges were brought against News Corp. James relocated to New York to rebuild his position within News Corp. as deputy chief operating officer.
During that time, he helped bring "modern governance" to the company, hiring new counsel and revamping the compliance and ethics program in the wake of the hacking scandal, Enders said. The Ailes uproar is likely to cause more reflection on whether those moves were enough.
James also played a role in critical deals, including the split of News Corp. from Fox in 2013 and Sky's 2014 acquisition of Fox stakes in Sky Deutschland AG and Sky Italia. (He returned as chairman of Sky this year.) James also led an investment in Vice Media Inc. and joined the boards of Vice and TrueX, an advertising technology company that Fox now owns.
The changes that have taken place at Fox in the year since Murdoch took over with Lachlan have also been substantial.
Reset Button
The brothers have pressed "the reset button on key elements of what had been the Fox story for the past few years," Barton Crockett, an analyst at FBR Capital Markets, wrote in a note last week, citing the company's decision to stop providing profit forecasts and potentially slowing share repurchases.
James and Lachlan also have installed new management at the 20th Century Fox film unit. Stacey Snider will take over next year from Jim Gianopulos following a couple years of falling revenue and lower profit.
In December, they expanded the company's ownership of the National Geographic Society's cable TV channels. The brothers have also restructured the Fox International channels.
Then in July, the lawsuit by Carlson, coupled with reports of allegations from other women, led the Murdochs to replace Ailes. Cable networks, led by Fox News, are the single biggest contributor to profit at 21st Century Fox. Rupert Murdoch himself parachuted in to take over from Ailes, a positive move according to Wells Fargo & Co. analyst Marci Ryvicker.
Last week, when Fox reported earnings, the brothers told employees in a memo that they are "continuing to take the matter very seriously" and added that "the culture of 21CF is built on the values of trust and respect, and we are deeply committed to ensuring that these principles are adhered to, without exception."
Four years ago, then-39-year-old James admitted to a British parliamentary committee that he failed to ask enough questions when the News of the World hacking was brought to his attention. Government officials concluded later that James Murdoch "fell short of the conduct" expected of a chief executive officer.
Enders said Fox under the younger Murdoch has "learned not to ignore any issue and be super careful about its moral stance.
"He must have understood that he had been given another chance," she said.
Before it's here, it's on the Bloomberg Terminal.
LEARN MORE