U.S. Stocks Rise Toward Record Amid Earnings From Macy's, Kohl's
by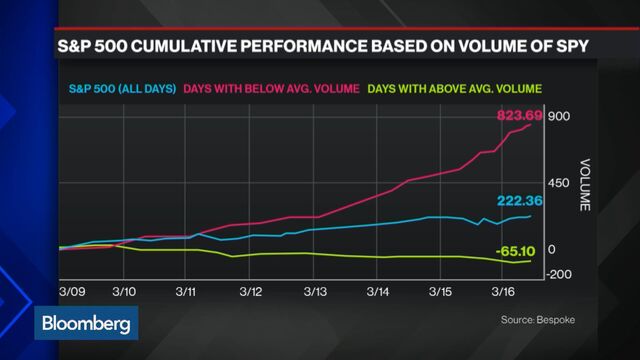 U.S. stocks rebounded, with the S&P 500 Index briefly topping its all-time high, amid better-than-forecast profits at Macy's Inc. and Kohl's Corp.
Macy's jumped 15 percent after its report and a plan to close about 14 percent of its stores in a bid to maintain profitability. Kohl's rallied the most in seven years, while peers J.C. Penney Co. and Nordstrom Inc. climbed at least 6.4 percent. Alibaba Group Holding Ltd. increased 4.8 percent after its profit beat estimates. Shake Shack Inc. tumbled the most since March as its same-store sales missed analysts' forecasts.
The S&P 500 Index gained 0.3 percent to 2,181.25 at 10:04 a.m. in New York, after yesterday falling the most in a week. The Dow Jones Industrial Average increased 66.67 points, or 0.4 percent, to 18,562.33. The Nasdaq Composite Index rose 0.3 percent, also briefly topping its record reached on Tuesday.
Stocks have recently surged to a rash of fresh highs, boosted by better-than-estimated earnings, improving economic data and optimism central banks will stay supportive of growth. After topping its previous record in mid-July, the S&P 500 inched higher in a range, with valuations near their most expensive in more than a decade. The benchmark has failed to rise or fall more than 1 percent in either direction for 23 straight days, the longest such streak since 2014.
"Positioning is very light and very cautious," said Nadia Grant, a London-based fund manager at Columbia Threadneedle Investments. Her firm manages the equivalent of about $446 billion. "The market in the U.S. has been grinding up nicely. The focus is on the big consumer names that will be reporting. We have seen jumps in the consumer side in the economic news being corroborated by the retail names that are late in the reporting cycle."

In addition to Macy's and Kohl's, investors are awaiting a raft of other quarterly results from retailers before the earnings season comes to an end. Nordstrom Inc. reports after markets close today, while releases from Urban Outfitters Inc., Home Depot Inc. and Wal-Mart Stores Inc. are among those due next week.
More than four-fifths of S&P 500 companies have posted results so far, of which 78 percent beat profit projections and 56 percent exceeded sales expectations. Still, analysts predict a 2.7 percent earnings decline for index members, and forecasts for the current quarter ending in September have turned negative, indicating a sixth consecutive period of falling profits, the longest since the financial crisis.
In a quiet week for economic data, a report today showed the number of Americans filing applications for unemployment benefits was little changed, holding near four-decade lows that highlight strength in the job market. July retail sales tomorrow will offer more clues on the strength of the U.S. economy and the trajectory of Federal Reserve interest-rate increases.
Traders have pushed back bets for a hike in the past week. June 2017 is now the first month with at least even odds of a boost, compared with March just after the stronger-than-forecast payrolls release last Friday.
Before it's here, it's on the Bloomberg Terminal.
LEARN MORE