Royal Mail Union Threatens Strike to Protect Pension Plan
By
Union wasn't consulted over letter sent to staff, it says

Promises 'strongest action' to oppose elimination of plan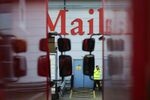 Royal Mail Plc workers could go on strike to protect their pension plan after the operator of the U.K. postal service said it might not be able to keep the program running beyond 2018, a union leader said.
The company failed to consult the Communication Workers Union before sending a letter to employees in June that said the pension plan had become unaffordable and might have to be scrapped in two years, union deputy general secretary Terry Pullinger said. The union will take "the strongest action possible" -- including strikes, if needed -- to oppose the closing of the defined-benefit pension program, he added.
"This is people's lives," said Pullinger, whose union says it represents 134,000 postal workers at Royal Mail and other employers. "The effects of closing that scheme would be massive."
The U.K.'s June 23 vote to leave the European Union and the Bank of England's subsequent interest-rate cut have deepened a pension crisis at many companies by reducing investment income. Pension deficits increased by more than 40 percent over two months through the end of July, with liabilities reaching a record high of 856 billion pounds ($1.1 trillion), according to consulting firm Mercer.


Three years
The effect on pension plans may not be immediate because they conduct valuations over three-year periods to determine contributions. Royal Mail is in the middle of such a review, but declined to say when it was due to end.
Royal Mail said "early indications" show that its contributions to the plan would have to rise to more than 900 million pounds annually from around 400 million pounds.
"Such an increase in costs is not sustainable," the company said in a statement.
Pullinger said it was "concerning" that the "mood music is that this is already decided. It's not in keeping with the agreements we made when the company was privatized" in 2013. He said official consultations over the plan, which closed to new members in 2008, had not begun.
"Current financial market conditions suggest that keeping the plan open to accrual in its current form beyond 2018 will not be affordable," Royal Mail said in its annual report in June. Pullinger said the union wants to see that target date pushed back "on the basis that the economy will eventually recover."