markets
RBNZ Signals Likely to Wait Until November for Next Rate Cut
By
Assistant Governor McDermott comments in interview Thursday

Says markets missed downside risks in policy statement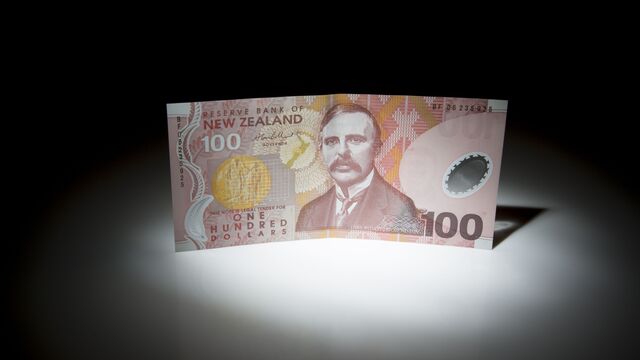 The Reserve Bank of New Zealand signaled it will probably wait until November for its next interest-rate cut as it prefers to move in conjunction with quarterly policy statements.
Unlike interim rate reviews, the monetary policy statements present fresh forecasts and are accompanied by a press conference, giving the bank a better opportunity to communicate its stance effectively, assistant governor John McDermott said in an interview late Thursday in Wellington. The next MPS is due Nov. 10 while an interim review is scheduled for Sept. 22.
"You always keep open the option of your review because stuff can happen, but if things are roughly on plan it's better to do it with communication," McDermott said. "You're trying to move the 90-day track so that you move the yield curve and hopefully policy is more effective. That's why we prefer the policy statements to do things."
The RBNZ yesterday cut its benchmark rate by a quarter point to 2 percent, a record low, and said at least one further reduction will be required. Investors are currently pricing a 35 percent chance that the RBNZ will cut rates again in September, with the odds rising to 75 percent in November, swaps data show.
More Data
The central bank will have a lot more data available to it after the September rate review, including third-quarter inflation numbers on Oct. 18 and inflation expectations on Nov. 2, which McDermott said it puts "a lot of weight on."
"Inflation expectations are a very slow-moving beast, but once they've gone too far down we would have a tremendously difficult job fixing them," he said. "That's the issue, and that's why we've moved" rates and their future path.
The RBNZ has lowered borrowing costs just twice this year, but McDermott rejected the notion it was a "reluctant cutter," saying policy makers needed to balance all the risks in the economy, including the current housing boom. Financial stability concerns around the property market were well understood, he said, adding: "which central bank would feel that it had to rush things when it already had a growth rate profile of 3.5 percent?"
Kiwi's Surge
"The economy is growing quite well, so you don't want to overdo it," McDermott said. "You spend all your bullets now when you're growing well, what happens if something really bad happens? But of course if the world turns out to be weaker, pushing the exchange rate to an even more elevated level because of that, the right thing to do is to lean against that with monetary policy."
The New Zealand dollar surged 1 percent to a one-year high after Thursday's decision, which disappointed some investors looking for a more aggressive easing signal, before relinquishing those gains overnight. McDermott said markets "got carried away" and missed the downside risks to the outlook for rates that were signaled in Thursday's MPS.
In two alternative scenarios highlighted in the document, the official cash rate would need to fall as low as 1 percent or further if the kiwi dollar holds its current level or inflation expectations decline significantly.
While the RBNZ doesn't target the exchange rate, the longer it stays elevated, the more it damps tradable inflation and makes it harder for the central bank to meet its mandate, McDermott said. "The more that happens, it means monetary policy would have to do even more work to compensate that particular headwind."
Before it's here, it's on the Bloomberg Terminal.
LEARN MORE