markets
Quorum Shares Drop by Half on Disappointing Full-Year Outlook
By
Shares fall 52% after second-quarter profit misses estimates

Hospital chain struggles with rising costs, slow admissions
Quorum Health Corp., a spinoff of the U.S. for-profit hospital chain Community Health Systems Inc., lost half its value after the company cut its full-year profit forecast and some analysts lowered their ratings and valuations of the stock.
The shares fell 52 percent to $4.84 at 12:48 p.m. in New York trading. They already had dropped 26 percent through Wednesday's close since Quorum started trading as an independent company on May 2. Community Health fell 3.9 percent to $11 Thursday, while Tenet Healthcare Corp. lost 3.3 percent to $25.51.
Quorum cut its full-year adjusted Ebitda forecast to a range of $175 million to $200 million, from a previous projection of $265 million to $275 million, the Brentwood, Tennessee-based company said Wednesday in a statement. Ebitda refers to earnings before interest, taxes, depreciation and amortization. Revenue will be $2.15 billion to $2.2 billion, down from $2.2 billion to $2.3 billion, Quorum said.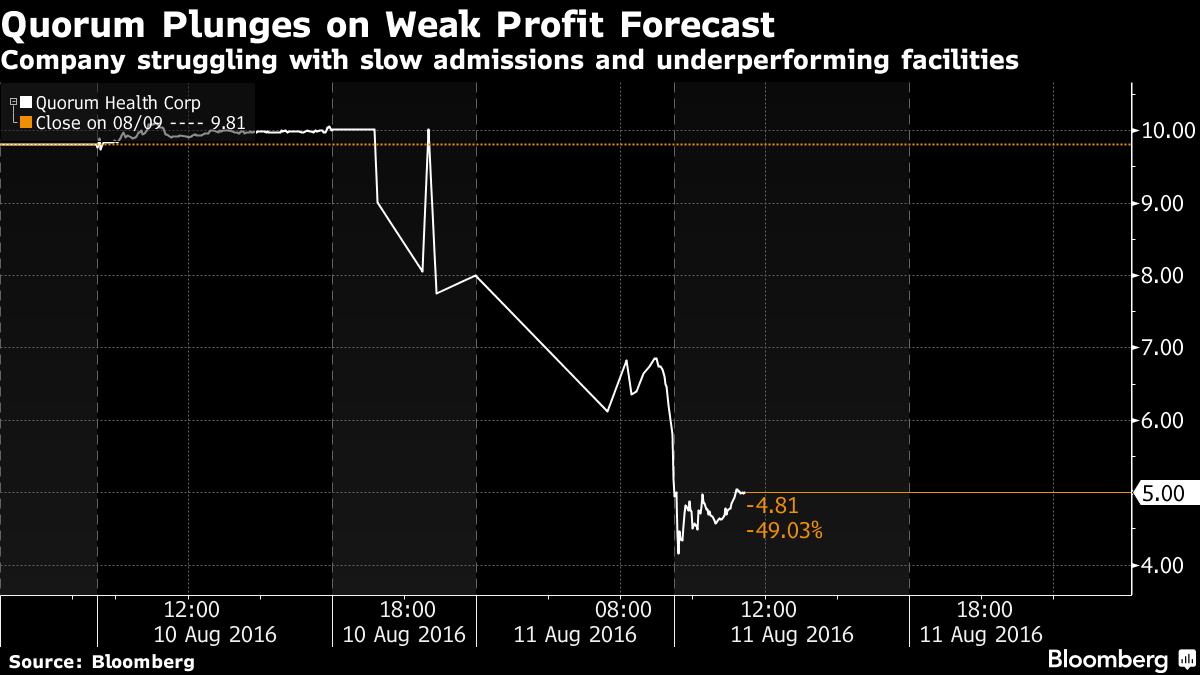 Second-quarter adjusted Ebitda fell 51 percent to $29.2 million from the earlier quarter. Revenue slipped 1.6 percent to $529.7 million, falling short of the $548.8 million average estimate of analysts surveyed by Bloomberg. The company reported a net loss of $245.1 million, or $8.63 a share, compared with net income of $1.43 million, or 5 cents a share, a year earlier. That included an impairment charge related to goodwill and long-lived assets, as well as costs of the spinoff and other legal costs totaling $216.1 million, or $7.61 a share.
The hospital chain is working to cut expenses as slowing admissions and rising labor costs are weighing on its business. Quorum is "committed to divesting" some underperforming facilities where losses accelerated in the quarter, and will use the funds to pay down debt, Chief Executive Officer Thomas Miller said in the statement.
"We have already received letters of intent on certain facilities," Miller said. "We currently anticipate that some sales should be completed in the fourth quarter."
Some analysts are concerned about Quorum's sharp decrease in its forecast.
"We don't expect much of a volume rebound beyond seasonal effects, even as we do expect meaningful labor savings to be visible" by the fourth quarter of this year, Sheryl Skolnick, an analyst with Mizuho Securities USA, wrote in a note to clients. "It's pretty clear that QHC needs to sell the money-losing hospitals to avoid even a low-dollar-priced stock and to preserve equity value."
Skolnick lowered her target for the stock's price to $8.50 from $11.25, while A.J. Rice, an analyst with UBS, downgraded his rating to "sell" from "hold." The latest figures suggest the "earnings power is lower, and the need for portfolio rationalization is greater than originally believed," Rice wrote Thursday in a note to clients.
Before it's here, it's on the Bloomberg Terminal.
LEARN MORE