PBOC Yuan Report Pledges Bigger Say for Market, More Global Use
Bloomberg News
China to make issuing Panda bonds easier, develop CIPS system

Capital liberalization is far away due to curbs: Commerzbank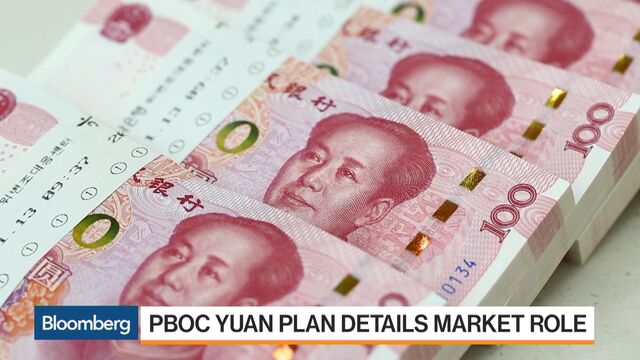 China will give markets a greater role in deciding the exchange rate while keeping the currency basically stable at an equilibrium level, according to the central bank's annual yuan internationalization report.
Policy makers plan to increase cross-border use of the yuan under the current account, encourage domestic institutions to lend the currency to foreign borrowers and make it more convenient for overseas entities to issue yuan bonds in the onshore interbank market, according to a People's Bank of China report obtained Thursday by Bloomberg News. China will also speed up developing a new phase of a cross-border payment system, according to the document.
The report, which hasn't been published except for a short summary yesterday, comes a year after the PBOC's shock devaluation of the yuan and a revamped foreign-exchange policy to make the currency more market-based. Policy makers increased overseas access to onshore markets and extended the currency's trading hours to promote global use in the past year, but efforts were thwarted by repeated intervention and tighter capital curbs that were put in place to prevent a vicious spiral of depreciation and fund outflows. 
"There have been signs that the yuan has stabilized somewhat recently as capital outflows have eased," said Zhou Hao, a Singapore-based senior economist at Commerzbank AG. "The strict capital control measures have been working, which implies that China's capital account liberalization is still far away."
Almost $1 trillion flowed out of the country last year even though the government stepped up scrutiny of cross-border transactions and froze quotas for a program facilitating individual overseas investment through institutions. The yuan will be included in the International Monetary Fund's reserve-currency basket on Oct. 1, along with the dollar, euro, pound and yen.
Here are some main points of the report:
Push ahead with yuan convertibility under the capital account
Accelerate opening up of stocks, bonds and currency markets
Improve the market-based mechanism that sets the exchange rate
Give the market greater power to decide the yuan's rate, boost flexibility in the currency's two-way moves, and to keep the currency basically stable at a reasonable, equilibrium level
Speed up development of new phase of China International Payment System (CIPS)
Improve accounting standards and credit ratings to make them suitable for yuan's cross-border use and opening up financial markets
Boost yuan's cross-border use under the current account
Support local institutions lending yuan abroad and using the currency for investment
Make it easier for foreign entities to issue Panda bonds
Support trials for innovative yuan businesses if they can control risks
— With assistance by Tian Chen, and Heng Xie
Before it's here, it's on the Bloomberg Terminal.
LEARN MORE