One Sign Treasuries Liquidity Is Better Than It's Been in Years
by
The nation's debt backs growing amount of tri-party repos

Share of deals reaches 47%, most since Fed data began in 2010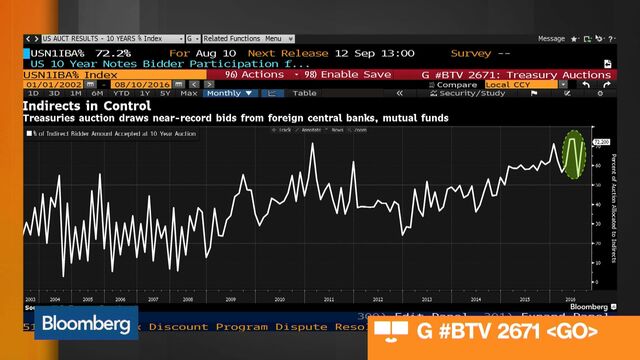 A crucial corner of the bond market is signaling that dealers are having an easier time financing their Treasuries holdings, reducing concern that liquidity has become strained in trading of some U.S. government debt.
In the $1.6 trillion tri-party repurchase-agreement market, where dealers turn for short-term funding and investors park cash, Treasuries served as collateral for almost half of transactions in July. That's the largest share since the Federal Reserve Bank of New York began compiling the data in 2010.

The increase is partly a result of a regulatory change set to take effect in the money-market fund industry, which is boosting demand for Treasuries-backed repos. The growth in such deals is significant because it hints at a revival in the repo business that may grease the wheels of trading in the $13.4 trillion Treasuries market. Liquidity in Treasuries -- the ability to trade without substantially moving prices -- has drawn scrutiny since the events of Oct. 15, 2014, when the government-debt market convulsed with no apparent trigger.
"This supports liquidity in a broader sense in the cash market, because if you can't borrow against a security it is not very liquid," said Joseph Abate, a money-market strategist in New York at Barclays Plc, one of the Fed's 23 primary dealers. "The trend shows the market is adapting and finding ways to accommodate the demand for repo" even in light of added regulations.
Jury's Out
The jury is still out on the cause of the October 2014 volatility, and the Treasury Department is conducting its most exhaustive review of the market's structure in decades. Yet dealers say new regulatory requirements have crimped their ability to take on risk and make markets.
The repo industry has shrunk about 40 percent since peaking in 2008 at around $2.8 trillion. The Fed and other regulators sought to reduce banks' reliance on this source of funding, because the loss of access to the repo market was seen as contributing to the demise of Lehman Brothers Holdings Inc. 
Policy makers are still pushing to wring out risk in the financial system, including through U.S. Securities and Exchange Commission measures that take effect in October and have led billions of dollars to shift into money-market funds that buy only government debt.
Money-Market Trigger
These funds, the primary lenders of cash in the tri-party market, boosted the amount of Treasuries-backed repos they hold by 70 percent in the last year, according to Crane Data LLC. That's one key to the rise in Treasuries as repo collateral, said Subadra Rajappa, head of U.S. rates strategy at Societe Generale SA, another primary dealer. Treasuries supply has also swelled relative to other securities that back the deals, she said.
Regulators' push for banks to cut credit-related exposure is another impetus, said Bruce Tuckman, a finance professor at New York University's Stern School of Business.
"There has been enormous regulatory pressure on financial institutions to reduce risk," Tuckman said. "Therefore, deleveraging has not only reduced the overall size of the repo market, but has also increased the fraction of the market in Treasury repo."

In tri-party repos, a third party handles tasks like clearing and settlement. Treasuries, excluding those whose principal and coupon payments have been stripped apart, accounted for about 47 percent of deals as of July 12, the New York Fed last measure. That's up from about 40 percent a year earlier. Agency mortgage-backed debt followed with 26 percent of collateral, compared with 27 percent a year earlier. Equities were next, serving as collateral for about 7 percent of deals, down from 10 percent.
Favored Collateral
Treasuries are key to the function of the repo market as they're a favored collateral choice, said Abate at Barclays.
"So goes the Treasury repo market, so goes the entire repo market," he said.
In a typical repo, a dealer needing short-term cash borrows from another dealer, a hedge fund or a money fund, offering Treasuries as collateral. Some cash providers then use the securities to complete other trades, such as closing short positions.
The pickup in Treasuries in repo deals is also a message that financial firms have succeeded in streamlining their business in light of new regulations, according to Josh Galper, managing principal of Finadium LLC, a consulting firm in Concord, Massachusetts, that focus on securities finance.
"We are seeing a return to stability from brokers, saying that there is no real scarcity of balance sheet," he said. They're no longer "shutting off the spigots in areas like use of U.S. Treasury collateral."
Before it's here, it's on the Bloomberg Terminal.
LEARN MORE