Noble Group Sacrifices Profit in Pursuit of Cash After Loss
By and
Trader reports net loss of $54.9m in 2Q; net debt increases

Company's priority is to raise liquidity headroom, CFO says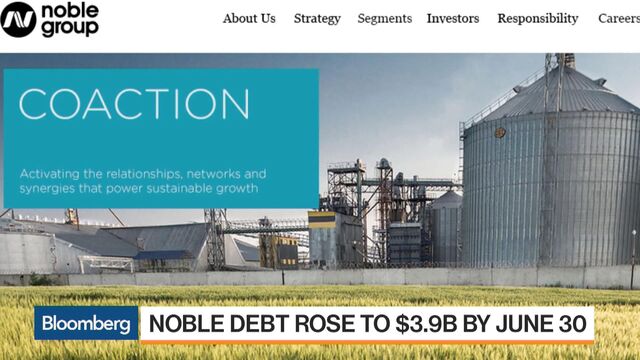 Noble Group Ltd. has conceded it needs to pursue cash over profit.
After posting a second-quarter net loss of $54.9 million and an increase in net debt, the commodity trader said its priority is boosting cash flow ahead of earnings. Reeling from a two-year collapse in its share price, the company is holding back capital from more profitable parts of the business as it works towards a target of raising $2 billion.

In a tumultuous 18 months, Noble Group has lost its blue chip status and investment-grade rating amid sliding commodity prices and attacks on its accounting. Former Chief Executive Officer Yusuf Alireza quit in May and days later the company announced an emergency rights issue and said founder and chairman Richard Elman would step down within 12 months. It's cutting jobs, selling assets and exiting some markets as it seeks to prop up its finances.
"It's still too early to talk about profitability for this company because they're still focusing on deleveraging and resolving liquidity issues," said Margaret Yang, a strategist at CMC Markets in Singapore. "They'll have to resolve their liquidity issues and overcome this tough period before we can see a real turnaround in this company."
The loss in the three months ended June compared with a net profit of $62.6 million a year earlier, according to a statement on Thursday. Sales declined 32 percent to $12.5 billion. The Hong Kong-based firm was reporting its first earnings under new co-CEOs Jeff Frase and William Randall.
Share Rout
Noble has lost about two-thirds of its market value over the past year as prices of everything from oil to coal and copper tumbled and its accounting methods came under attack from critics including Iceberg Research.
The stock fell to the lowest since 2003 last week before the $500 million rights shares began trading in Singapore. It has slumped 51 percent in 2016 while commodity returns have recovered about 16 percent from the lowest in a generation in January. The shares lost 3.9 percent to 14.9 Singapore cents at 9:21 a.m. local time on Friday.
Net debt increased to $3.92 billion by June 30 from $3.69 billion three months earlier, the company said. Liquidity headroom -- its accessible cash plus available committed bank facilities -- shrank to $800 million from $1.9 billion at the end of the previous quarter. That number needs to be "much higher," according to Chief Financial Officer Paul Jackaman.
"There's been an increased focus on liquidity over profitability," Jackaman said on a conference call after the results. "It's fair to say that we have accelerated, being very single minded, on moving as fast as we can to continue to deleverage and that has had consequences on results."
Credit Lines
Some credit lines linked to particular commodities, are "constrained", Jackaman said in an interview after the call. The company got a waiver from relevant banks relating to one of the financial covenants in its revolving credit facility and borrowing base facility for the period ended June 30, it said.
Noble has already raised more than $700 million in additional liquidity and is targeting a further $1.3 billion through steps including the sale of its Noble Americas Energy Solutions business. It's also closing its European power and gas operations and discontinuing mining and metal units in North America and Europe.
Asset Sales
The sale of NAES has "generated significant interest" from potential buyers and should close in the next few months, the company said. Considered core under former CEO Alireza, it's a victim of Noble Group's cut to junk status as the company seeks to raise cash and divest a capital-intensive business that its credit rating can no longer support, Frase said in June.
In another fund-raising move, the company last year sold its remaining 49 percent stake in the Noble Agri Ltd. business to China's Cofco Corp. for $750 million in cash.
"Liquidity would trump profit at this point in time," said Nicholas Teo, a strategist at KGI Fraser Securities in Singapore. "Liquidity would ultimately represent to a company whether it's going to be a viable entity going forward. A company with no liquidity would not be able to continue."