Hedge Funds Face New Blow as $83 Billion Pension Cuts Them Out
by
Low yields make it harder for asset managers to justify fees

PFA says it can be up to 90% cheaper if they manage assets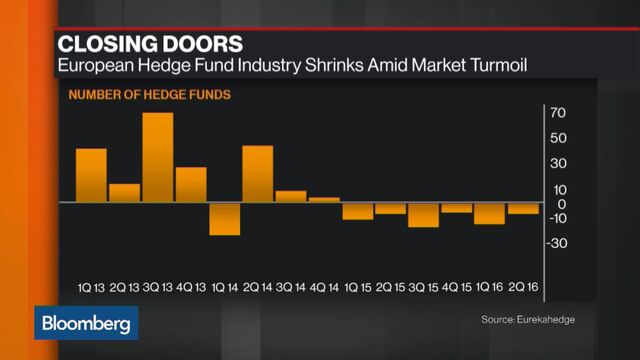 Danish pension fund PFA says it has found a way to boost returns in a world of ultra-low yields: cut out middle men like hedge fund managers and do it yourself.
"Part of our new strategy is to do more investments directly instead of via specialized funds," said Christian Lage, who helps oversee about $83 billion in pension savings as co-chief investment officer at PFA in Copenhagen. "Fund structures are typically very expensive and as yields have come down, the focus on costs has increased quite remarkably."
Most pension funds and insurers rely on third-party fund managers to handle their investments in alternative assets. With low and negative interest rates weighing on returns, cutting those costs has become more compelling. That's bad news for hedge funds, which are already under pressure with more than 480 shutting up shop since the start of 2015 as returns slumped, and other money managers.
"Asset managers that offer easily replicable strategies at high fees, such as hedge funds, are taking a hit," said Tomasz Grzelak, a Zurich-based analyst at MainFirst Bank AG. "With ultra-low yields, pension funds are fighting for every basis point of fees."
Cost Savings
Managing traditional investments costs the firm about 66 percent less than using a fund manager, said Lage at PFA, Denmark's biggest commercial pension fund. For alternative assets such as infrastructure and hedge funds, it's as much as 90 percent cheaper, he said. Lage's co-chief investment officer Henrik Noehr Poulsen oversees the fund's alternative investments.
"Our pace of expanding the alternative investments beyond real estate will increase rapidly," Lage said. About 40 billion kroner ($6 billion) is currently invested in property, with 10 billion kroner in other alternative assets. The plan is to boost that amount to the same size as the real estate portfolio, he said.
Investors searching for lower fees are moving to strategies such as smart beta funds. The money pools, which operate like exchange-traded funds, typically charge as little as half a percent. That compares with the traditional 2 percent of assets and 20 percent of profits charged by hedge funds, a model that has been criticized by Warren Buffett and pension funds.
The Eurekahedge European Hedge Fund Index lost almost 3 percent in the six months through June, its worst first half since the measure was first compiled in 1999, increasing redemption pressure on regional hedge funds. GAM Holding AG and Man Group Plc were among asset managers to post lower first-half earnings this year on declining fees. 
For a story on why a U.S. pension funds cut hedge fund mandates, click here.
Moving more investments in-house will reverse a trend toward outsourcing to asset managers. About 39 percent of assets in German pension funds were run by third-party managers at the end of last year compared with 33 percent in 2013, according to data compiled by the nation's financial regulator Bafin.
Pension funds will also pool assets and pursue mergers and acquisitions in order to reduce costs, State Street Corp. said last year, citing a survey of 400 senior executives in the industry.
"Having a focus on costs is absolutely key these days," said Lage, who is hiring more managers and risk compliance workers as PFA plans to expand its investment department to 100 people from about 85. "Having more competency in-house is setting the agenda for the pension-fund industry in a way that we are not used to." 
Before it's here, it's on the Bloomberg Terminal.
LEARN MORE