Gold Rally Wobbles as High Prices Keep Indian Brides Waiting
By and
Overall demand seen lower than last year: Capital Economics

World Gold Council cuts full-year India, China demand forecast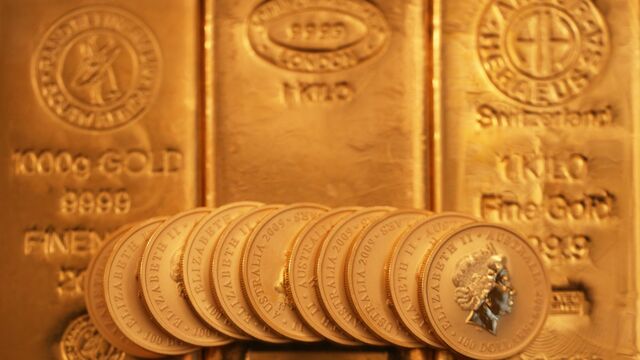 Just when demand for gold should be heating up, the year's rally looks to be slowing.
The second half of the year is normally better for gold as demand from brides in India lifts prices. This time, a rally of 25 percent in the first six months has hit the buffers, with higher costs deterring buyers in the biggest jewelry markets.
After the best first half in four decades, gold is just up 1.2 percent this quarter. It fell 0.6 percent to $1,338.64 an ounce at 3:22 p.m. in New York, according to Bloomberg generic pricing. Buyers in India and China are just window shopping, according to the World Gold Council, an industry lobby group. They often pay more attention to the local-currency cost of metals. Measured in rupee terms, gold is near the highest level in three years. 

"The higher rupee price and various taxes on gold jewelry are factors that will put pressure on demand," said Robin Bhar, an analyst at Societe Generale SA in London. "Buying is so weak that metal is trading at a discount to London prices."
For more on the challenges to the Indian gold market, click here.
The gold council cut the annual forecast for Indian buying by 100 tons compared with an estimate in May of 850 to 950 tons, and for Chinese demand by 50 tons from 850 to 950 tons.
"Steep prices have done little to attract demand in the more price-sensitive markets," it said in a report on Thursday. "India consumers in particular are notoriously wary of price instability and this year has proven to be no exception."
Even technical indicators signal the rally could be losing steam. The moving average convergence-divergence indicator, a gauge of price momentum, has been below the signal line since Aug. 8. That's a warning sign to some analysts who study charts that the rally could be faltering. On the Comex in New York, the aggregated volume in futures trading was 28 percent below the 100-day average, according to data compiled by Bloomberg.
There's still hope for a recovery. August is traditionally gold's strongest month, climbing in each of the past six years with an average gain of 5.3 percent. The reduction of duties on jewelry in India will also help.
"We do expect a pickup, but overall demand for this year will be lower than last year," said Simona Gambarini, a commodities economist at Capital Economics Ltd. in London.
In ETFs and other precious metals:
Holdings in gold-backed exchange-traded funds added 3.86 tons to 2,039 tons on Wednesday, data compiled by Bloomberg show.
Spot silver, platinum and palladium declined.
— With assistance by Luzi-Ann Javier, and Ranjeetha Pakiam
Before it's here, it's on the Bloomberg Terminal.
LEARN MORE