The Gin Rickey, a Fancy Name for the Simplest Summer Refresher
The bracingly fresh trio of gin, lime, and sparkling water is maximum reward for minimum effort.
By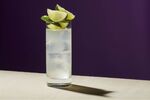 What makes the Gin Rickey—dubbed "an air conditioner in a glass"—uniquely suited to the hot, languid days of August?
"There's something magic about it," says Derek Brown, president of Drink Company, the D.C.-based restaurant and bar group behind such renowned local watering holes as the Columbia Room. "If you have a rickey on a hot July day, it's the most incredible drink in the world."
It was reportedly invented in the American capital back in the 1880s, when lobbyist Colonel Joe Rickey wandered into Shoomaker's bar on a steamy summer day. Who exactly came up with the recipe—Rickey himself, the saloon's bartender George Williamson, or a congressman who happened to be present at the time—is not entirely clear, but the cocktail (originally made with bourbon) soon rocketed to national popularity. It's now recognized as the official drink of D.C. and is still a popular accompaniment to Beltway wheeling and dealing today.
"It's pure simplicity," says Brown. "In the summer, you want to put in a minimal effort for maximum reward."
Indeed, it's hard to conjure a simpler drink. Put some gin in a glass. Squeeze in half a lime, and then drop it in. Add ice and sparkling water. This bare-bones assembly achieves something superior, though, among hot-weather cocktails—an austere, bitingly cool, elemental drink, like a slap of snowmelt in the face.
Another of the drink's fans was gin hound and American author F. Scott Fitzgerald, who featured it in the tragic denouement of The Great Gatsby. The narrator, Nick Caraway, notes that on a sweaty, airless afternoon, the characters drank their rickeys, "in long, greedy swallows"—which, ultimately, is the only way anyone should drink them.
Ingredients:
2 oz gin (Plymouth or Old Tom's is best)
Sparkling water
Lime
Add gin to a Collins glass, squeeze in half a lime, and drop the shell in, add ice and about four ounces of sparkling water—Brown suggests mineral sparkling water such as Perrier. Stir and serve. 
Before it's here, it's on the Bloomberg Terminal.
LEARN MORE