Gilt Yields Follow Japan as 10-Year Spread Shrinks to Record
by
Yield premium has plunged since BOE announced more easing

U.K. 10-, 30-year bond yields fell to all-time lows this week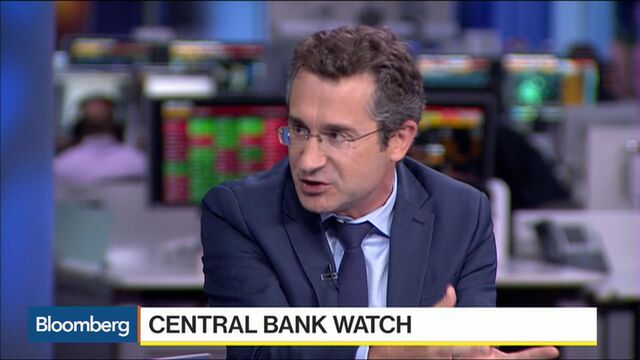 It's the first week of the Bank of England's revived bond-purchase plan and U.K. gilts are already storming down the path carved out by their Japanese peers.
The yield premium offered by 10-year gilts over similar-maturity Japanese bonds shrank to the lowest on record on Wednesday as the securities became the latest focal point in a global fixed-income rally that has pushed yields across developed markets ever-lower. The gains mirror the moves seen in German and Japanese bonds under their respective central bank's quantitative-easing programs, which have sent benchmark yields in both nations below zero.

U.K. securities have been boosted by BOE stimulus designed to shield the economy following the nation's decision to exit the European Union in June, supercharging a rally that has made the bonds the world's best performers this year. U.K. 10- and 30-year yields fell to all-time lows this week, while those on some non-benchmark securities slid below zero, after a bumpy start to the revived asset-purchase program. That boosted speculation the central bank may need to pay higher prices to purchase enough longer-term gilts to meet its QE target.
"You have this global trend of yield curves trending lower," said Benjamin Schroeder, a fixed-income strategist at ING Groep NV in Amsterdam. "Britain has this special case with Brexit of course, but there's this trend globally."
The yield on U.K. 10-year gilts was at 0.54 percent as of 1:04 p.m. London time on Thursday, after touching a record-low 0.512 percent the previous day. That compares with minus 0.105 percent on similar-maturity Japanese bonds, leaving the yield difference at 64 basis points. The spread, which was at 176 basis points as recently as April, narrowed to 63 basis points on Wednesday, the lowest on record, based on closing prices.
The U.K.'s yield spread over German bunds touched 64 basis points on Wednesday. the lowest since 2013.
Gilts have climbed since the BOE expanded quantitative-easing program ran into a stumbling block on Tuesday as investors proved unwilling to part with their holdings of longer-dated bonds. The resulting rally spread into other markets, pushing down yields from Germany to the U.S.
For more on this weeks QE operations, click here.
"We have essentially witnessed a European bond market that has been almost entirely about the U.K.," RBC Capital Markets analysts Cathal Kennedy and Peter Schaffrik wrote in a note to clients Thursday. "We suggest that the market is becoming concerned (rightly or wrongly) about scarcity in the gilt market."
There were further signs of the demand for longer-dated bonds on Thursday as the U.K. sold 850 million pounds ($1.1 billion) of inflation-linked securities due in 2036 a record-low real yield of minus 1.722 percent. Meanwhile the yield difference between two- and 30-year gilts narrowed to the least since 2008.
Before it's here, it's on the Bloomberg Terminal.
LEARN MORE