markets
Fed Up Says It Unjustly Lost Rooms at Jackson Hole Meeting
By and
Hotel reservations of the labor and community group canceled

Hotel blames an error that resulted in overbooking of rooms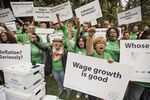 A coalition of community and labor groups known as "Fed Up" said 39 members planning to stay at the hotel hosting the Federal Reserve's prestigious annual retreat in Jackson Hole, Wyoming, were unfairly singled out when their 13 room reservations were canceled.
The group, which is pressing the U.S. central bank to appoint more minorities and women to its leadership, said most of its attendees would have been black and Latino. It has filed a complaint with the U.S. Department of Justice and other government officials. The group believes it lost the rooms because of "specific targeting of the Fed Up coalition."
Fed Chair Janet Yellen is the first woman to lead the U.S. central bank and it remains under pressure to become more diverse. Democratic presidential nominee Hillary Clinton joined calls for reform in May and the central bank has taken fire from Republicans, who warn its low interest rate policies risk inflating another asset bubble.
The Fed Up coalition, which wants rates to stay low to boost hiring and lift wages, has discussed its concerns with Fed officials, including Esther George, president of the Kansas City Fed, which hosts the annual Jackson Hole monetary-policy conference in late August.
Faced with criticism that it doesn't look out for the interests of poorer Americans, the Fed has been making efforts to change. The Kansas City Fed said on Thursday that it will hold a conference on the challenges low- to moderate-income communities face on Sept. 7-8 at its headquarters.
Booking Error
Alex Klein, vice president and general manager of Grand Teton Lodge Company and Flagg Ranch, said the reservations were canceled because "an error in the booking system" resulted in the Jackson Lake Lodge being oversold by 18 rooms. "We worked proactively and diligently with guests to relocate them to our nearby Flagg Ranch property," he said in a statement.
The Kansas City Fed has a contract to provide rooms for guests at the symposium and "has no input regarding any decisions that the Lodge makes outside of its contract with us," said bank spokesman Bill Medley.
The symposium, which gathers policy makers and economic-thought leaders for a three-day retreat in the heart of the Grand Teton mountains, is probably the most important event of its kind on the central-banking calendar. Yellen will attend and plans to address the conference on Aug. 26. This year's meeting, which is invitation only, is focused on the topic "Designing Resilient Monetary Policy Frameworks for the Future."
The hotel, while remote, is open to the public and Fed Up representatives have made the trip for the past two years. In 2015, Fed Up held an alternative conference at the Lodge which was addressed by Nobel-prize winning economist Joseph Stiglitz.
(
Updates with Kansas City Fed conference announcement in fifth paragaraph.
)
Before it's here, it's on the Bloomberg Terminal.
LEARN MORE