Fed Finds Dots Are Just Dots, Failing to Convey Forecast Doubts
by and
'Dot plot' rate path has dropped even as outlook stayed steady

Fed studying fan charts as a way to recast rate forecasts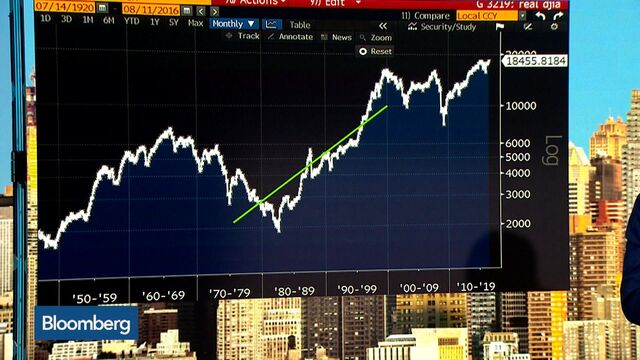 A little blue dot doesn't really have any way to convey doubt. And that's a problem for Federal Reserve officials.
When Chair Janet Yellen and her colleagues update economic forecasts at their meeting next month, all eyes will be on how quickly they expect to raise interest rates, compared with June's median estimate of two quarter-point hikes in 2016. Yet that outlook, displayed as anonymous dots on a chart, is silent on their level of conviction in the projection, even though officials have said uncertainty has grown.
"The whole framework for the dots is a little suspect," said Michael Hanson, senior global economist at Bank of America in New York. "They have been continually surprised at how anemic the economy has been, how global shocks continue to buffet them, and how uncertain their inflation models have been."

Former Fed chief Ben Bernanke, who launched the so-called "dot plot" in 2012, said "the degree of uncertainty about how the economy and policy will evolve may now be unusually high" in a Monday blog. As a result, he added, Fed communications have "taken on a more agnostic tone," signaling that rates will be held lower for longer.
For an explainer on why the Fed keeps delaying rate hikes, click here
The quarterly federal funds rate forecasts were a useful tool when policy makers wanted to signal the policy rate would be near zero for an extended period, said Ed Al-Hussainy, senior global interest rate analyst at Columbia Threadneedle Investments in Minneapolis.
Based on how each member expects the economy to evolve through the next two to three years, the guidance was designed to help investors form expectations about future policy.
Under Yellen, the central bank has spent much of the past two years signaling the approach of rate hikes, without being able to say precisely when they would be needed to keep the economy on a course of full employment and stable prices. In that context, she has emphasized that policy will flexibly respond to incoming economic data.
That strategy, almost by necessity, has produced a policy path that has strayed from the static rate forecasts set out in the dots, raising questions about what use they serve. The gap can create confusion that results in public costs from unnecessary volatility in real credit rates.
Confusing Investors
"It has been very damaging," Al-Hussainy said. "Over the last seven months, it has really been a disservice to the market."
That's also reduced the credibility of the dots among investors. When officials projected two hikes for 2016 in June, investors saw a less than 5 percent probability of that outcome the day after their meeting, according to pricing in federal funds futures.
Some policy makers, however, might agree with that reaction. Their rate forecasts don't necessarily represent a scenario they believe is more probable than not. Rather, it's one they view as more probable than any other single outcome, but they don't have a way to spell that out.
New York Fed President William Dudley said in a recent speech that "there is still room for further improvement" in Fed communication. The summary of economic projections "does not convey how much uncertainty there is about the economic outlook," he said.
Fed officials are studying ways to fill the communication gap between policy plans and actual responses.
Fan Charts
Minutes from the January meeting show they have studied fan charts -- or a cone around an estimate which displays possible deviations from the forecast. That could "help convey to the public that the future path of monetary policy is uncertain," the minutes said. That proposal was sent back to a special subcommittee for further review.
Jon Faust, a former adviser to Yellen on communications when she was the Fed Board's vice chair, said fan charts would only be useful in diminishing the importance of the dots. Printing the rate forecast "in a blurry way so that it causes less of a problem could be a step forward," said Faust, an economist at Johns Hopkins University. "But it is not a real fix."
The true challenge, Faust said, is getting at the source of the uncertainty: Fed officials don't know where the appropriate rate might be in the short term to keep the economy at stable prices and full employment, a concept known as the neutral rate. Knowing how far current policy is from that neutral level is vital to understanding how rates should move.
'Feel Forward'
Now, he said, they are in a "feel forward" mode, exploring where that level lies. That has meant leaving the policy rate unchanged to support the economy as they navigate a sea of conflicting data: job gains have marched ahead, growth has slowed for five consecutive quarters and inflation has remained steady at around 1.6 percent.
On top of that were other drags and risks, from slower growth in China to Britain's vote to quit the European Union.
One thing Fed officials have changed has been the dots. In December, the median forecast of Federal Open Market Committee members was for four hikes in 2016, and in March it was cut to two. It almost changed again in June when six officials forecast just one hike for 2016, compared with one person who did so in March. Yet Fed officials' outlook for inflation and unemployment have showed little variation.
There are few guidelines to inform Fed officials' "judgment about the pace at which the funds rate should rise to keep the economy at full employment and price stability," said former Fed governor Laurence Meyer, who now runs a policy analysis firm in Washington that bears his name. "They don't know when they are going to raise rates next, and what the appropriate pace will be."
Before it's here, it's on the Bloomberg Terminal.
LEARN MORE