Europe's Credit Investors Are Seeing Bubbles and Still Adding Risk
Central bank stimulus is pushing investors into riskier corners of the bond market.
by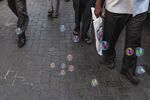 Credit investors are in a bind.
Central banks have pushed bond yields to record lows, which has nudged investors into riskier securities in search of higher rates. Meanwhile, central bank stimulus has caused credit markets to rally, thus attracting inflows to the sector, meaning investors have more money to put to work amid ever-diminishing yields.  
That's the takeaway from a Bank of America Merrill Lynch's survey of 50 investors in European credit. Their biggest fear is that central banks are creating bubbles:

Even so, the pressure to deliver returns even with rock-bottom yields is encouraging risk taking, either by buying subordinated paper which ranks lower down the payment hierarchy, switching to U.S. dollar-denominated assets, or longer-dated debt:

Investors in investment-grade notes are now overweight bonds with maturities of 10 years or more for the first time ever in Bank of America's survey:

The European Central Bank started buying corporate bonds in June as part of its efforts to boost growth and inflation in the euro area, and the Bank of England is also shortly due to begin its own program to help the U.K. economy weather shocks from Britain's vote to leave the European Union. That has caused a rally in credit which has drawn an "avalanche" of inflows, according to Bank of America:

Yet with yields looking like this, investors may need to take even greater risks in investing new cash:

Before it's here, it's on the Bloomberg Terminal.
LEARN MORE