Erdogan's Approval Rating Soars in Turkey Following Coup Attempt
By
MetroPOLL says 67.6 percent like president's handling of duty

Popularity significant as Erdogan seeks change to constitution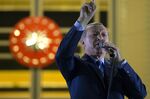 Recep Tayyip Erdogan's approval rating rose to the highest level since he became Turkey's president two years ago as his administration deals with the aftermath of a failed military coup last month.
Just over two thirds of Turks approve of the way Erdogan is handling his duties, according to a survey by Ankara-based MetroPOLL conducted about two weeks after the July 15 putsch. It's the first time that Erdogan, who became president in 2014 after more than a decade as prime minister, has had a rating above 50 percent since he was elected to his current role.
The boost in popularity is significant for Erdogan as he seeks to change Turkey's constitution to create an executive presidency. Opposition lawmakers, who object to his accumulating greater powers, have denied the ruling AK Party he co-founded the votes needed in parliament to call a referendum on the issue. 
Popular support for Erdogan may help the AK Party tip the balance should it choose to take advantage of its rising popularity with a snap vote, something it has so far denied planning. Prime Minister Binali Yildlirim, who supports the shift to an executive presidency that would undermine -- if not eliminate -- his office, saw his approval rating surge to 57.7 percent, from just over 40 percent around the time he was chosen to replace Ahmet Davutoglu in May.
The AKP has 317 lawmakers in parliament. A referendum would require support from 330, while ratification of a change to the constitution would require the votes of 367 lawmakers.
MetroPOLL said support for nationalist opposition leader Devlet Bahceli more than doubled to 39.7 percent since the coup. The survey showed little change for main opposition CHP leader Kemal Kilicdaroglu and the pro-Kurdish HDP's co-chair Selahattin Demirtas, at 25.5 percent and 15 percent respectively.
MetroPOLL conducted the survey of 1,275 people from July 28 to Aug. 1, it said in a Twitter posting, without giving a margin of error.