Egypt Reaches Initial IMF Accord on $12 Billion Program
By , , and
IMF announces three-year extended fund facility in Cairo

Government's economic program includes VAT and spending cuts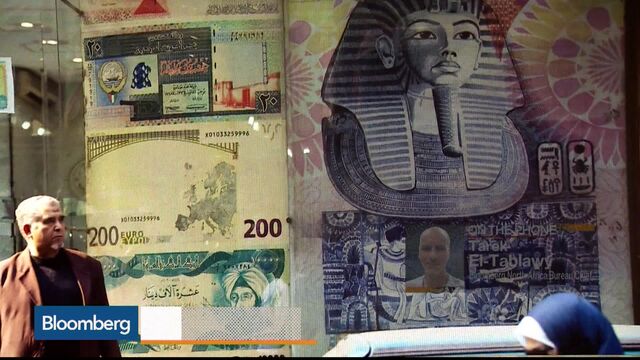 Egypt reached an initial agreement with the International Monetary Fund over a $12 billion package designed to restore the confidence of foreign investors and ease a crippling dollar shortage hampering economic growth.
The three-year agreement aims to "improve the functioning of the foreign exchange markets, bring down the budget deficit and government debt, and to raise growth and create jobs," said Chris Jarvis, the IMF Egypt delegation head. He said the government recognizes the need for the "quick implementation" of measures to restore economic stability.
Egypt has struggled to spur economic growth and attract foreign investments since the 2011 uprising that ousted President Hosni Mubarak. The government's economic program includes plans to introduce value-added taxation, cut electricity subsidies and curb wage increases. Economists expect the central bank to devalue the local currency or adopt a flexible exchange rate regime to attract investments that will bolster reserves.
Foreign Reserves
Monetary and exchange-rate policies "will aim to improve the functioning of the foreign exchange market, increase foreign reserves, and bring down inflation to single digits during the program," Jarvis said. "Moving to a flexible exchange rate regime will strengthen competitiveness, support exports and tourism and attract foreign direct investment. This would foster growth and jobs and reduce financing needs."
The IMF accord is subject to approval by the IMF's Executive Board, which is expected to consider Egypt's request in the coming weeks, Jarvis said. Egypt's benchmark EGX 30 Index rose 1.1 percent to 8,383.79 as of 12:33 p.m. in Cairo, its highest intraday level since July 2015.
The central bank weakened the currency by more than 10 percent in March, the biggest one-time devaluation since 2003. The move, however, has failed to crush a black market for dollars, where the pound is trading at a discount of about 30 percent to the official rate.
"The Egyptian pound is on a one-way trajectory - significant depreciation will occur in the next two years," said Edward Coughlan, head of Middle East North Africa Analysis at BMI Research, said in reference to the IMF accord.
Coughlan said he expects a 10 percent currency devaluation "over the next two or three quarters. By the end of 2018, I think the currency will be about 20 percent to 30 percent lower than current levels."