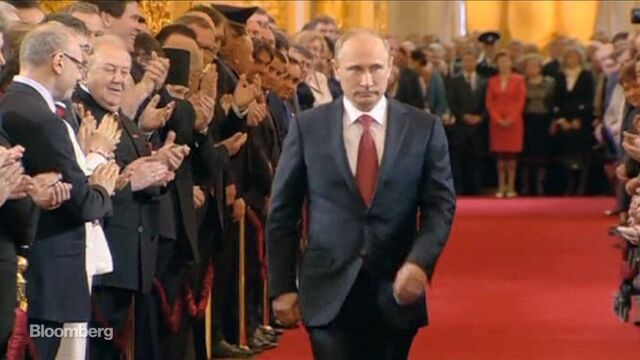 Russian President Vladimir Putin has threatened to retaliate against what he called Ukrainian "terror" in Crimea, the peninsula annexed by Russia from its neighbor two years ago. That raises the prospect of a return to all-out war. At the moment, the purported terrorist activities that Putin has vowed to put down are very much in dispute. The region is awash with military personnel and hardware from both nations, as well as the two rebel armies based around the cities of Donetsk and Luhansk.
1. What triggered Russia's threats?
Russia says that Ukraine deployed agents to destabilize the Black Sea peninsula and that two Russian servicemen were killed in shootouts. Ukraine denies the accusations and says Russia may be fabricating them as a pretext for military action. The lack of witnesses and the absence of media on the scene make it hard to corroborate such claims.
2. What is known of the situation in Crimea right now?
Crimea remains under Russian control, though only seven other countries officially recognize Russia's claim. The U.S. and the European Union say they'll maintain sanctions until Russia returns the territory to Ukraine, which is highly unlikely. A peace accord signed in February 2015 stemmed the worst of the fighting, but regular clashes between the army and insurgents have resulted in a growing number of deaths. Ukraine's military said July was its deadliest month in almost a year.

3. What's the status of peace talks?
Diplomacy continues in the form of regular meetings and telephone conversations among Ukrainian, Russian, German and French officials -- the so-called Normandy format. Envoys also gather frequently in Minsk. Progress, however -- such as the release of Ukrainian pilot Nadiya Savchenko -- has been scant. Russia has also pulled back its initial support for another four-way meeting during next month's Group of 20 meeting in China.
4. What have peace talks accomplished?
The peace accord signed last year in the Belarusian capital of Minsk halted heavy fighting and set out a path to reconciliation, but little has been achieved since. Weaponry initially pulled back has been returned to the battlefield, a full prisoner exchange hasn't taken place and the two sides are at loggerheads over elections and the constitutional status of the rebel-held lands. The United Nations says the death toll is nearing 10,000.
5. What could be behind the latest tensions?
There's no shortage of explanations. Russia says Ukraine wants to destroy key Crimean infrastructure and distract its citizens from its own economic travails. Ukraine says Russia is fabricating a reason to attack it. Outside the official barbs, analysts list several possible scenarios: Putin may be seeking to show Crimeans how important Russia is to their well-being before parliamentary elections in September, or trying to achieve relief from sanctions by showing that Ukraine isn't committed to the peace process.
6. What's next?
Russia says the deaths of its servicemen won't go without a response. Putin, who's already enacted a host of economic penalties against Ukraine, has spoken of enhanced security measures. While the U.S. and the EU have urged calm heads, reports suggest that Russia is bolstering its military presence on its neighbor's border. It's already been conducting drills nearby. Ukraine has put its military on high alert. Investors are worried, pushing Ukrainian bond yields to a six-month high after the spat began.
The Reference Shelf
A QuickTake explainer on the standoff in Ukraine.
A Leonid Bershidsky column on Putin fanning the flames once again.
Before it's here, it's on the Bloomberg Terminal.
LEARN MORE