Clinton Offers More Hope, Less Change in Economic Reply to Trump
By and
Democratic nominee aims to contrast with Trump's tax cuts

Republican flags analysis that Clinton plan would harm economy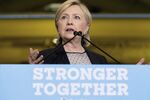 For those who believe the world's biggest economy doesn't need radical surgery, Hillary Clinton is offering a comforting refuge.
The Democratic presidential nominee is pledging to boost growth with a suite of policies that President Barack Obama has also advocated, including a fund that would invest in roads and other infrastructure, and an increase in the minimum wage. She has added new wrinkles popular among supporters of Bernie Sanders, such as free tuition for the middle class at public colleges, while signaling to wavering Republicans and independents that she won't run up the federal deficit. But broadly speaking, Clinton is hewing closely to Obama's economic agenda.
Eight years after Obama promised "hope and change," Clinton is presenting more hope about the economy than Republican nominee Donald Trump, and just enough policy change to avoid unsettling voters.
"She's playing that to her advantage of delivering a strategy that is familiar and frankly has largely worked in many ways if you give the president credit for improvement in the last eight years," said Christopher Smart, a former Treasury official in the Obama administration. "Maybe it doesn't sound new and exciting, but that's the work that needs to be done."
Clinton and Trump are battling for the hearts and minds of working-class voters who feel they aren't getting ahead amid the weakest U.S. recovery since World War II. Clinton, who's trying to consolidate and hold a lead she's built up over Trump in recent polls, has tried to highlight America's resilience as a contrast to Trump's dark portrait of an economic empire in decline.
For an overview of the candidates' trade views, click here.
"There's a myth out there that he'll stick it to the rich and powerful because, somehow, he's really on the side of the little guy," Clinton said Thursday in a speech in Warren, Michigan, near Detroit. "Don't believe it."
Even if she wins, Clinton won't be able to enact tax increases for the wealthy because Democrats won't control Congress, said Stephen Myrow, managing partner at Beacon Policy Advisors in Washington and a Treasury official in the George W. Bush administration.
Trump's Pledges
Clinton's address was intended as a counterpoint three days after Trump, speaking in Detroit, promised deep cuts in personal and corporate income taxes to boost the economy. He also pledged to end excessive regulation and lift restrictions on the nation's energy producers, in a plan that borrows heavily from the traditional Republican playbook.
Both Clinton and Trump are talking tough on trade. Clinton said she'll oppose the Trans-Pacific Partnership accord, boost trade enforcement and impose targeted tariffs where needed. Trump said Monday he'll withdraw the U.S. from the TPP and renegotiate NAFTA, and he has vowed to slap higher tariffs on goods from China and Mexico.
"There's a lot of her trying to shore herself up on being anti-free trade," Myrow said. "The benefit of Trump putting out his eclectic, hodge-podge economic policy is that he sets up easy targets for her to attack and it allows her to avoid getting deeper into her own plans."
The world's biggest economy has recently produced mixed results. Payrolls climbed by 255,000 last month, exceeding all forecasts in a Bloomberg survey. Still, gross domestic product expanded at a less-than-projected 1.2 percent annualized pace in the second quarter, resulting in the weakest gain in output in the first half of a year since 2011.
Clinton's Mission
In accepting the Democratic nomination last month, Clinton said her primary mission as president will be to create more "good jobs with rising wages," especially in parts of the country that "for too long have been left out and left behind."
Clinton has promised to lower the tax burden on middle-class families, while raising taxes on the rich and imposing an exit levy on companies that leave the country to lower their tax bill. She has also pledged to launch the boldest investment in infrastructure since the 1950s, and raise the federal minimum wage.
Her plan would increase tax revenue by $1.1 trillion over the next decade while reducing saving and investment, though primarily by the highest income earners, according to the Tax Policy Center in Washington.
In a preemptive response ahead of Clinton's speech, Trump's campaign flagged an analysis that her tax plan would hold back the economy. That analysis, which was done by the conservative Tax Foundation in Washington, found that Clinton's plan would reduce GDP by 1 percent over the long term because it would create "slightly higher marginal tax rates on capital and labor."
— With assistance by Rich Miller, John Voskuhl, Michelle Jamrisko, and Brendan Greeley
Before it's here, it's on the Bloomberg Terminal.
LEARN MORE