Brazil Real Weakens as Central Bank Steps Up Intervention Effort
by
Central bank acts to weaken real as it rose to one-year high

Intervention may not be enough to keep currency from rising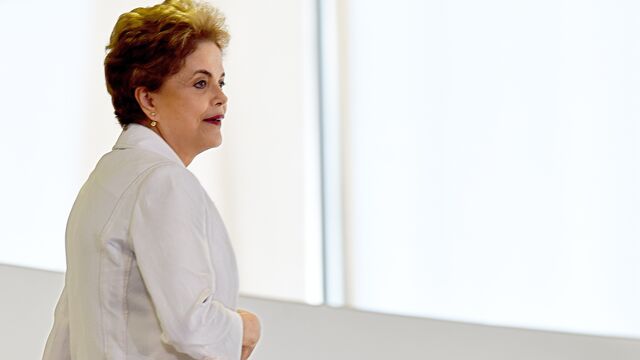 Brazil's real slipped the most in Latin America as the central bank escalated efforts to weaken the currency, counteracting optimism after lawmakers voted to move forward with the impeachment of suspended President Dilma Rousseff.
The monetary authority increased the amount of reverse foreign-exchange swaps it is offering from 10,000 to 15,000, a move equivalent to buying $750 million in the futures market. The Brazilian currency fell 0.5 percent to 3.1444 per dollar Thursday in Sao Paulo, after closing at the strongest level in more than a year on Wednesday as the Senate voted in favor of opening the final phase of the impeachment process.
Policy makers revived the intervention program in March as the real headed toward the world's biggest gains this year, dimming the outlook for exports, and have since sold $56.3 billion of the contracts. The currency has strengthened amid optimism that the government of Acting President Michel Temer can trim the country's budget deficit, end credit-rating downgrades and restore confidence in its ailing economy.
"The increase in swap auctions may have caught the market off-guard this morning, leading to some lightening in positions after a good run in the BRL this month," said Mike Moran, the head of economic research for the Americas at Standard Chartered Plc. "I suspect the market will test the CB's tolerance for currency strength again in coming weeks."
Still, the central bank intervention may not be enough to prevent the real from strengthening in the short term, said Joao Paulo de Gracia Correa, the head of foreign currency at brokerage SLW in Curitiba. The favorable international scenario for emerging-market assets and the expected inflow of foreign funds to Brazil amid optimism about the government's efforts to curb spending will offset the intervention, he said.
Swap rates on the contract maturing in January 2021, a gauge of expectations for interest-rate moves, rose 0.03 percentage point to 11.89 percent.
Before it's here, it's on the Bloomberg Terminal.
LEARN MORE