At 'Burning Man of the Hamptons,' Artists and Wall Streeters Mix
by
Art incubator Watermill Center to host public event on Sunday

Blackstone's Martin Brand likens it to camp or business school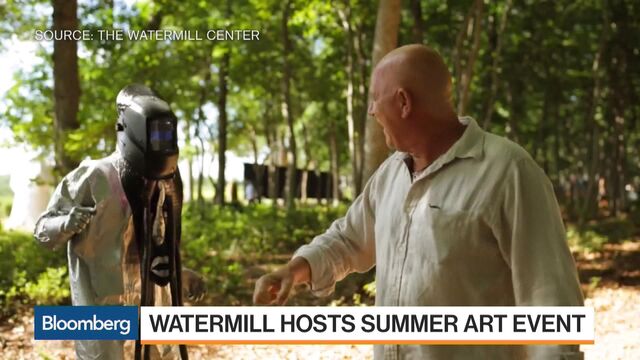 Golf, tennis? No, said Blackstone senior managing director Martin Brand. His Hamptons pastime is -- wait for it -- work. "Sad, right?"
Don't feel too bad for him: The 41-year-old who specializes in technology and financial companies at the world's largest private equity firm was attending one of the biggest parties of the season, the Watermill Center benefit and auction.

As usual, he was working, this time as a board member of Watermill, trying to explain the art incubator. What came to mind were his own experiences at summer camp and business school.
"You get drawn out of your little island that you happen to live in, and you get thrown into the community where suddenly there's 50 people who are all immensely talented in very different ways from you," he said. Yet, many peers haven't heard of it, he said with a tinge of frustration. "Because it's not a museum, people don't go to it, even though it has so many amazing artists who come here."
A good day to experience Watermill is this Sunday, when artists will re-create some of the installations seen at the benefit and add workshops, tours and family activities to the mix. Discover Watermill Day is free and runs from 3 to 6 p.m. with no reservation needed.
Brian O'Mahoney, 23, who applied for a Watermill residency on a whim when he was 19, will present "cats sleep anywhere," a giant pile of pillows he created after many anxiety-ridden, sleepless nights. At the benefit, he made the work on a rooftop. On Sunday, it will be on the ground, "so visitors can lay down and nap," he said.

Even the architecture at Watermill is designed to provoke. One room has a floor of stones. There's also a "library of inspiration" consisting of prehistoric to contemporary art and lots of books.
Days often start with a meditation led by founder Robert Wilson before artists fan across the campus, brainstorming, staging, writing and dreaming. Outside visitors can join at lunch, which is how Brand met Kate Eberstadt, who's refining a project to bring a children's choir to a refugee camp in Germany. Composer Paola Prestini and Wilson are developing "Two Oars," an opera based on "The Old Man and the Sea" headed to a beach stage in Australia.

The benefit carries a lot of the burden of fundraising, buzz-making and introducing Watermill to new people. This year's grossed more than $2 million and drew more than a thousand guests to its installations in the woods, a surprise performance by rapper Ja Rule, and sightings of former professional athletes Jason Bell and Edgar Davids.
Russian dissident artists Pussy Riot placed an electric chair in front of a wall painted with "Make America Great Again," which got Alex Soros, fresh from the Democratic National Convention, talking about the need to elect Hillary Clinton.

On a whimsical note, Credit Suisse's Matthew Grinnell and his kids delighted in a woman singing in a water-logged row boat, and others marveled at fragments of cars whirring in the woods, courtesy of the Bruce High Quality Foundation.


Brand and his fiancee, hedge-fund manager Sonja Bebber of Aternalis Capital, took it all in with a crew that included Daniel Senft and Peter Zhou of Coatue Management, Anna Nikolayevsky of Axel Capital Management, Alex Tisch of Loews Corp. and First Eagle Investment's Matt McLennan.
"The benefit is somewhat spectacular," Brand said. "You bring people because it's fun."
Nikolayevsky got the idea. "It's the Burning Man of the Hamptons," she said.
Before it's here, it's on the Bloomberg Terminal.
LEARN MORE