A Look at China's Stimulus Efforts Shows 'Malinvestment Is Still Hard at Work'
More of the same is the name of the game.
by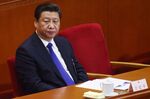 It was supposed to be different this time.
Ahead of looming fiscal stimulus from China, analysts were quick to emphasize that this would be a leaner, smarter government spending program. There would be a new method of financing to try to keep the debt burdens for local governments from becoming too onerous. And, above all, it would be targeted to avoid exacerbating the excess capacity that's abundant in many industries.
While the scale of the expenditures certainly pales in comparison to those that followed the Great Recession, the story remains the same.
A Morgan Stanley team, led by Chief China Economist Robin Xing, noted that fixed-asset investment growth among state-owned enterprises (or SOEs) has accelerated across the board in 2016, with the exception of mining.

This same trend also holds for investment in services sectors, Xing observed.
These data suggest that stimulus efforts have not been as targeted as proponents hoped, belie the narrative of rotation of growth from credit-driven infrastructure projects to activity linked to domestic demand, and raise the specter of further malinvestment in the world's second largest economy.
"We know a) in real terms rebalancing isn't advancing as much as the government protests citing nominal data and b) the restimulation this last year of investment via credit and fiscal policies will certainly have slowed it down further," writes George Magnus, senior economic adviser at UBS AG. "Capital accumulation isn't all or always wrong but if it's largely debt financed and SOE provided, I'd say that malinvestment is still hard at work."
Statistics on activity imply that this capital isn't going to the right places. Industrial production for SOEs has contracted on an annual basis, but continues to rise for private enterprises at a clip of roughly 8 percent year-on-year, according to Morgan Stanley.
"We believe the strong SOE-led investment only exacerbates the problems of falling return on investment against the backdrop of excess capacity and persistent disinflationary pressures — which are at the heart of the macro challenges in China's economy," writes Xing.
Private sector investment remains hamstrung by a lack of commitment to reforms that have crippled business confidence, he added, while funding costs remain high relative to their SOE peers.

Thus, an element of crowding out could be at work, as banks are more willing to lend to presumably safer SOEs than private firms, and unprofitable so-called 'zombie companies' further divert credit from more productive uses.
"The private sector would benefit if wealth transfer (including preferential access to credit, etc.) from the state to the private sector were a core platform of reform," said Magnus. "But it isn't — or not now at least."
So far, the execution of this fiscal expansion suggests that policymakers in Beijing continue to prioritize the quantity of economic growth rather than its sustainability or a reform agenda.
"Maybe the Beidahe sessions [a gathering of China's leadership] will shed new light but I'm fairly sure the main policy directive is stability at any cost," concluded Magnus. "And there will be a cost, all the heavier I suspect, the longer the status quo continues."
Before it's here, it's on the Bloomberg Terminal.
LEARN MORE