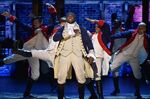 Every week, hosts Dan Moss, Kate Smith and Scott Lanman bring you a jargon-free dive into the stories that drive the global economy.
As much as economics permeates our lives, the concepts behind the subject can often be rather dry. Fortunately, the smash Broadway musical "Hamilton" takes some of those concepts and sets them to catchy hip-hop tunes. Matt Rousu, an economics professor at Susquehanna University in Pennsylvania, is already creating lessons for his students based on some of the musical's songs as well as numbers in other Broadway shows. Scott Lanman and Dan Moss break down some of the music with Matt and find the connections between the songs and the Federal Reserve.
Before it's here, it's on the Bloomberg Terminal.
LEARN MORE