markets
Venezuela's New Economy Czar Praised Soviet 'Self-Sufficiency'
By
Carlos Faria was appointed as country's new economy chief

Nomination was part of a broader shake-up of Maduro's cabinet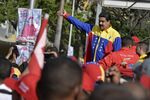 Venezuela's President Nicolas Maduro confirmed Carlos Faria as the South American country's economy chief in the official gazette distributed Wednesday after first appointing him as industry minister in a cabinet shakeup last week.
While not much is known about the 53-year-old engineer other than the fact that his brother heads the ministry of foreign commerce and investment, Faria, has been praised by Maduro as a "young professional" and appears to hold the former Soviet Union, where he studied, in high regard.
QuickTake Venezuela's Revolution
"The Soviet Union was a highly self-sufficient country, and now Russia still maintains a high degree of knowledge," Faria said in a statement after Maduro in 2015 appointed him to head a high level joint commission between Russia and Venezuela, according to state news agency AVN. 
Faria has kept a low profile, and little is known about his views, Francisco Rodriguez, chief economist at Torino Capital LLC in New York, said in a note to clients on Monday, adding that his brother, Jesus Faria, was more pragmatic and moderate in his post as trade minister than other remaining members of Maduro's economic cabinet. 
The country's dollar bonds issued by state-oil producer Petroleos de Venezuela SA due in November next year fell the most in six months the following day to 72 cents on the dollar, according to data compiled by Bloomberg.
"We're from the hard line in the sense of the strengthening and deepening of the revolution," Jesus Faria said in an interview on the Globovision network Wednesday when asked about his brother. "We're communists, but we are totally in tune with the changes occurring in the country. We've been proposing things like updating prices to make the economy more dynamic, to re-activate the productive apparatus and to also fight speculation. "
Venezuela's Information Ministry did not immediately respond to a request for comments.
— With assistance by Noris Soto, and Jose Orozco
Before it's here, it's on the Bloomberg Terminal.
LEARN MORE