U.S. ELECTION WRAP: Clinton Urges GOP to Join Her Against Trump
The Democratic nominee makes pitch for Republican support in wake of rival's latest controversial comment
By , , , and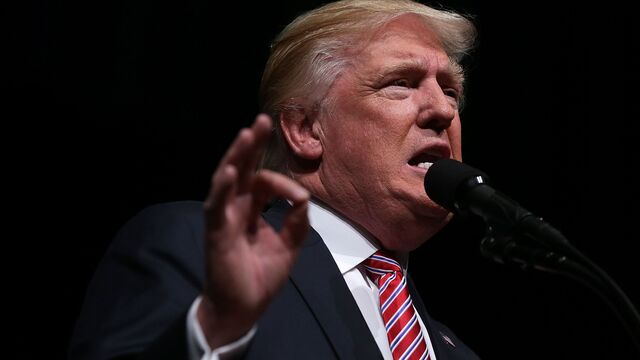 Hillary Clinton accused Donald Trump of "inciting" violence with his Second Amendment remark yesterday and appealed to Republicans opposed to the GOP nominee to support her instead.
"We may not agree on everything but this is not a normal election," Clinton said at a rally this afternoon in Des Moines, Iowa
Clinton pledged to work hard over the next three months to earn the support of "anyone willing to put our country first" 

"Words matter, my friends," Clinton said in reference to Trump's "Second Amendment people" remark made yesterday in N.C., which critics including the Clinton camp, took as a call to violence; Trump, many of his allies and at least one of his detractors, GOP Sen. Susan Collins, rejected that interpretation
"Yesterday, we witnessed the latest in a long line of casual comments from Donald Trump that cross the line," Clinton said
"His casual cruelty to a Gold Star family, his casual suggestion that more counties should have nuclear weapons and now his casual inciting of violence. Every single one of these incidents show us that Donald Trump simply doesn't have the temperament to be president and commander in chief of the United States": Clinton

The Democratic nominee told the Iowa crowd she's "humbled and moved" by Republicans who have said Trump doesn't represent their values
Meanwhile, Trump didn't directly address the controversy over his remarks when he spoke today at a rally in the Virginia town of Abingdon, near the Tennessee border, Bloomberg's Greg Sullivan reported
Trump said there is "a lot of unity" in the Republican Party, though nobody talks about it
The GOP nominee, flanked by men in mining clothes with signs reading "Trump digs coal," also told the southwest Va. crowd that if Clinton is elected coal mines "will be gone"
Click here to get the U.S. Election Wrap by e-mail every afternoon

GUNS

POLLS/PREDICTIONS
Clinton leads Trump by 6 points in a Bloomberg Politics national poll out Wednesday; see full story by John McCormick here
A new batch of swing state surveys are giving Republicans renewed hope for keeping control of the Senate, Washington Post's Daily 202 said

An NBC-WSJ-Marist poll released last night showed Clinton with a 5-point lead over Trump in Ohio; it also found GOP Ohio Sen. Rob Portman, who stayed away from Trump during the GOP convention in Cleveland -- 5 points ahead of Democratic challenger Ted Strickland
A Suffolk University poll last week showed Clinton winning Florida by 6 points even as Republican Sen. Marco Rubio led his likely Democratic challenger by 13 points
Of 3 dozen surveys taken since late June across 11 swing states, the GOP incumbent on average has outperformed Trump by 8 points, according to the newspaper's analysis

Nineteen percent of registered Republicans want Trump to drop out, according to a Reuters/Ipsos poll

Of those surveyed, 10% said they "don't know" whether they would like Trump to stay in, and 70% want him to remain a candidate

In Wisconsin, Clinton leads Trump 52%-37%, a new Marquette University Law poll found

Last month, Clinton led Trump 43%-37%, with 18% saying they didn't back either candidate

Thirty-six percent of Americans have favorable impression of Trump's running mate, Mike Pence, while 25% hold an unfavorable view; 33% have favorable opinion of Clinton's vice-presidential pick, Sen. Tim Kaine, with 30% unfavorable, Gallup survey shows

POLITICS VS ACTUAL SPORTS
A strong majority of 57% of likely voters say they're more focused on the presidential campaign than the Summer Olympics, while 36 percent select the quadrennial sporting extravaganza,'' according to new Bloomberg Politics poll

On what to watch if NFL football is on TV at the same time as a debate between Clinton and Trump, 69% of respondents would choose to tune into the debate vs 26% who said they would watch the game; 56% expect Clinton to outperform her GOP rival in the 1st debate, the survey found

Speaking of debates, the first of which is now set for Sept. 26, CBS late-night talk show host Stephen Colbert plans live shows following 2 of the 3 planned presidential debates and after the vice-presidential face off, New York Times reported

ENDORSEMENTS/DEFECTIONS
Clinton got a new crop of Republican supporters, including former Kellogg CEO Carlos Gutierrez, former National Intelligence Director John Negroponte and former Rep. Chris Shays of Connecticut; see full story here
Republican National Committee is experiencing Trump-related staff departures, Politico reported
Sen. Susan Collins, who earlier this week became the most senior GOP senator so far to say she won't vote for Trump, told CNN she also won't vote for Clinton and may write in Jeb Bush or Condoleezza Rice

ETC
An alliance of 15 progressive groups, including MoveOn.org, is pushing Clinton to reject Wall Street appointments, Bloomberg's Sahil Kapur reported
Newly released e-mails from a top aide to Clinton show evidence of contacts between the State Department and donors to the Clinton family foundation and political campaigns, Bloomberg's Ben Brody reported

A State Dept spokeswoman today told reporters that Clinton's pledge to limit her dealings with the Clinton Foundation while serving as secretary of state didn't bar aides from such contact

Republican National Committee Chair Reince Priebus asked the State Department to release additional Clinton e-mails

"With growing evidence of pay-to-play relationships" between Clinton's State Dept and the Clinton Foundation, the federal government "owes it to the American people to release the thousands of work-related emails she failed to turn over before voters head to the polls," Priebus said in statement

CONGRESSIONAL RACES
SENATE
IN-SEN: Democrat Evan Bayh's campaign released TV ad that accuses Republican Rep. Todd Young of having "voted for tax breaks to companies like Carrier that ship Indiana jobs to places like Mexico and China"

Bayh's ad cites Young's Sept. 2014 vote against Democratic motion to recommit, or send back to committee with changes, a Republican bill with provisions for tax and regulatory relief
Ad features 14-year worker who says he's getting "pink slip" from Carrier Corp., which is eliminating 1,400 jobs at its Indianapolis air conditioner plant and moving production to low-wage Mexico
Young's campaign in statement said Bayh is a "superlobbyist candidate" who "continues to sidestep media questions about his residency and post-Senate employment"
NOTE: Trump often invokes Carrier when he denounces trade pacts; Indiana voted 54%-44% for Republican Mitt Romney over Obama in 2012 election
MO-SEN: Democrat Jason Kander in first TV ad underscored his service as Army intelligence officer in Afghanistan and as Missouri's Secretary of State, saying that "we need more leaders willing to sacrifice for their country"

NOTE: Kander's race against Republican Sen. Roy Blunt is rated "lean Republican" by Cook Political Report
NV-SEN: Democrat Catherine Cortez Masto's campaign released TV ad attacking Republican Rep. Joe Heck as "part of the problem in Washington" and "not for Nevada" because he opposes abortion rights and has voted multiple times against federal funding for Planned Parenthood

Heck said in 2015 that "it's critical to me that we take care of women's health issues" and Planned Parenthood could "give up the abortion services and continue to provide the critical services"

NOTE: Winner of this race will succeed retiring Minority Leader Harry Reid
OH-SEN: Democratic ex-Gov. Ted Strickland's first TV ad of general election mixes biographical details with his advocacy for Medicare and Social Security protections, an infrastructure bank to finance road and bridge improvements, a middle-class tax cut, and a moratorium on new trade pacts

The 60-second spot, which doesn't mention Republican Sen. Rob Portman, will begin airing in Cleveland, Columbus, Toledo and Youngstown markets, according to Toledo Blade
Portman and Republican groups criticized Strickland for joking at AFL-CIO event Aug. 8 about political ramifications of the February death of Supreme Court Justice Antonin Scalia; "I don't wish anyone ill, but it happened at a good time" because Supreme Court in March deadlocked 4-4 in a ruling that favored labor unions,
He apologized today, saying it was "an insensitive remark"
PA-SEN: Freedom Partners Action Fund, a Republican super-PAC aligned with businessmen Charles and David Koch, released TV ad that accuses Democrat Katie McGinty of "again and again" acting to "help steer millions of our tax dollars to companies that promised to help us" but instead enriched her
NOTE: McGinty, former chief of staff to Democratic Gov. Tom Wolf, is running against Republican Sen. Pat Toomey in a race analysts consider too close to call
HOUSE
DEMOCRATS: Democratic Congressional Campaign Committee released memo that said it's "undeniably clear that 2016 is a nationalized election" and that Trump's unpopularity will hurt House Republican candidates in an era of increased straight-ticket voting
NOTE: Republicans control House by 247-186, not including two vacancies in Democratic districts; nonpartisan political analysts currently project Democratic gains in Nov. 8 election, though short of net gain of 30 needed to overturn GOP majority
MN-02: Cook Political Report shifted rating of race to "Leans Democratic" from "Toss Up" after talk-radio host Jason Lewis won four-candidate Republican primary yday

Lewis's "long history of provocative statements" make Democratic nominee Angie Craig, a former St. Jude Medical executive, a "slight favorite to flip a key swing seat," House editor David Wasserman wrote
Lewis in GOP primary defeated businesswoman Darlene Miller, the preferred candidate of retiring GOP Rep. John Kline, in suburban Twin Cities district where Obama won by fewer than 300 votes in 2012 election
TX-23: Republican Rep. Will Hurd in TV ad said he's regularly visited all 29 counties during his first term and worked to "get better care for our veterans, stop terrorists at the border, and combat cyberattacks from abroad"

Hurd's Democratic opponent is ex-Rep. Pete Gallego, whom he unseated 50%-48% in 2014 in competitive district that stretches from San Antonio to El Paso
Before it's here, it's on the Bloomberg Terminal.
LEARN MORE