U.K. Must Tackle Inequality Faced by Muslims, Lawmakers Say
by
Parliamentary committee calls for specific government plans

Lawmakers warn that focus on anti-extremism stokes tensions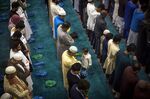 Britain must do more to tackle inequality faced by Muslims, who suffer the highest unemployment of all religious and ethnic groups, lawmakers on Parliament's Women and Equalities Select Committee said.
Joblessness among Muslims is 12.8 percent, more than double the national rate of 5.4 percent, the cross-party committee said in a report published Wednesday. The panel called for a government plan by the end of the year to tackle the disparity, and raised concerns that existing measures to promote integration are linked to counter-extremism strategies, known as "Prevent," potentially stoking tensions.
 "The challenges that the government faces in tackling extremism cannot be underestimated, but in the course of this inquiry we came across individual Muslims who were reluctant to speak to us for fear that our inquiry was part of the Prevent program," Committee Chairwoman Maria Miller said in a statement.
Tackling extremism at home and abroad has become a focus for governments across Europe after a wave of terror attacks in recent months. The committee's report said measures should focus on improving the lives of disadvantaged communities and action should not just be restricted to the fight against terrorism.
The report makes 19 recommendations for the government to directly tackle discrimination faced by Muslims in the workplace –- in particular Muslim women -- through widening university access and providing employment support. New strategies focusing on specific groups, including Muslims, must be combined with existing measures aimed at tackling disadvantage for black and minority ethnic people, they said.
Before it's here, it's on the Bloomberg Terminal.
LEARN MORE