markets
Erdogan Warns Bank Resistance to Interest Cuts Could Be Treason
By
Banks reduce monthly mortgage rate to less than 1 percent

Banks must lower mortgage rates to 9% from about 13.7% average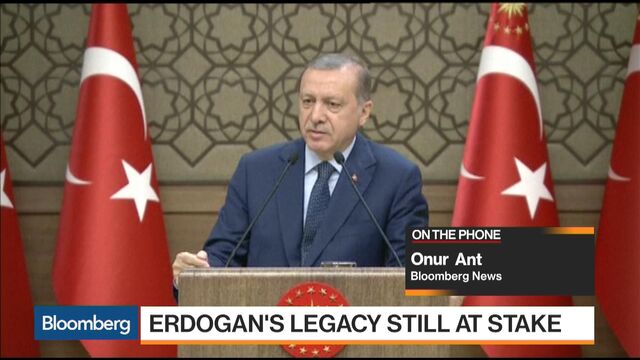 Turkish President Recep Tayyip Erdogan ratcheted up pressure on the nation's banks, saying he would consider resistance to his calls to cut mortgage rates as an act of treason.
Banks will be held "accountable" should they "act negatively in the matter of loans and interest rates," Erdogan told members of Turkey's Exporters Association at his palace in Ankara on Wednesday. "I would consider it as treason if the banks don't open the way for investors."
Erdogan has demanded that lenders cut mortgage rates to an annual rate of about 9 percent from the market average of around 13.7 percent as he seeks to shore up the economy following the failed coup last month. Lenders TC Ziraat Bankasi AS, Sekerbank TAS, BNP Paribas unit Turk Ekonomi Bankasi AS as well as Denizbank AS, owned by Russia's Sberbank, have all recently lowered interest charges to levels closer to what the president is demanding.
Erdogan said he would "push the banking sector" to cut rates amid "disagreement between me and bankers." He will convene with executives of Turkey's banks soon in a meeting to be attended by Prime Minister Binali Yildirim, he said.
The reduced rates also follow a decision by the central bank to cut the amount of cash commercial banks must keep locked up with the regulator -- the so-called lira reserve requirement ratio -- by half a percentage point on Tuesday. It also allowed lenders to use a small amount of foreign currency and gold as reserves for lira liabilities.
"You won't lose money" if you cut rates, Erdogan told business groups in Ankara on Aug. 4. "Now is the time to do this and you can earn from the masses."
"We may see the impact of this move in two to four weeks," said Sadrettin Bagci, a banking analyst at Deniz Invest in Istanbul. "We can expect the market rates to decline, leading to a fall in deposit rates and giving the banks a comfort zone to lend."
Borsa Istanbul's banking index declined as much as 1.5 percent after Erdogan spoke on Thursday.
— With assistance by Onur Ant
Before it's here, it's on the Bloomberg Terminal.
LEARN MORE