The Secret to Erdogan's Survival: Mix Money and Islam With the Good Life
Winning local elections gave AKP advantage on national level - Erdogan has chipped away at Ataturk's secular legacy.
By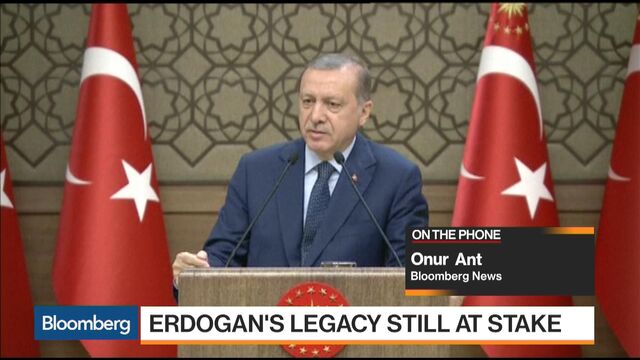 The mountain of garbage in the heart of Istanbul was an eyesore, a health hazard, and finally a killer. An explosion there in 1993, caused by a buildup of methane gas, left dozens dead. A year later, Islamist politicians took control of the city for the first time when Recep Tayyip Erdogan was elected mayor.
On the trash dump's former site, in the district of Umraniye, there's now a municipal sports complex. Its manager Muharrem Balik recalls the stench that filled his childhood home nearby, and says he wishes he'd grown up in today's Umraniye instead. It's a much shinier place. On the skyline, among the municipal housing projects, are corporate towers whose logos — Sony, Total, Al Baraka Bank — symbolize the wave of global capital that's transformed the city, and much of the country, since Erdogan gained national power in 2002. Malls have sprung up too; inside them, women in face-covering Islamic robes -- once stigmatized in a more secular Turkey -- shop alongside contemporaries who prefer Western styles.
Ultimate Threat
It's all happened on Erdogan's watch, and it helps explain why — almost alone in the Middle East — he's been able to lead an Islamic-rooted government to power via the ballot box, and keep it there. Many others have fallen by the wayside: Egypt's Muslim Brotherhood was toppled by the army, Islamists in Tunisia and Libya were edged out, and Morocco's governing party — which shares a name with Erdogan's — has remained subservient to the king.

Erdogan and his allies "were elected on a national level because they were good at the Istanbul level," said Ghanem Nuseibeh, founder of London-based consulting firm Cornerstone Global Associates. Winning local elections gave them "the opportunity to demonstrate themselves, to work on city administration," he said. That, he said, is "the only example" among the region's mainly-Sunni Islamist groups.
A new MetroPOLL survey showed Erdogan's approval rating has surged from 46.9 percent in June to 67.6 percent after the coup attempt, the highest of his presidency. The poll had never shown an approval rating higher than 50 percent since Erdogan became president in 2014.
When Erdogan's rule faced the ultimate threat, in last month's attempted coup, his big-city supporters took to the streets — in Umraniye, and across the country — to defend it. The insurrection was put down; almost 300 people died. Umraniye's mayor, Hasan Can, announced that the district's main square would be renamed 15 July Martyrs Square. A goat was sacrificed there in honor of the resistance.
Ataturk's Legacy
The religious gesture, in the spruced-up inner-city setting, says a lot about Erdogan and the AK Party he founded. Almost a decade before they came to power nationally, Turkey's Islamists were running the country's two biggest municipalities, Istanbul and Ankara.
Real power lay with Turkey's army then. Generals guarded the secular system installed by Mustafa Kemal Ataturk, the republic's founder. Erdogan has since chipped away at it. He lifted restrictions on Islamic headscarves and pumped religion into schools. His broadcasting watchdogs fined TV stations for immorality.
Erdogan and his party have won nine straight elections, drawing their strongest support from poorer and more religious Turks.
He's "empowered this previously outsider group and brought them into the political process, and also brought them in to business, and empowered them economically," said Shadi Hamid, a senior fellow at the Brookings Institution in Washington and author of "Islamic Exceptionalism: How the Struggle Over Islam Is Reshaping the World."
"This is where Erdogan has been quite successful and where other Islamist groups have failed," Hamid said.
Selling Erotica
Visitors from elsewhere in the Muslim Middle East are still likely to be struck by the Ataturk legacy. Women are more visible in the workplace; men can only marry one wife, rather than the four permitted by Islam. In the big cities, neon-lit shops sell erotica.
Unlike many other countries in the region, Turkey's constitution also doesn't refer to Sharia, or Islamic law, as a source of legislation. But even before the coup, officials were working on a draft charter that would remove references in the constitution binding public servants to the ideology of Ataturk.

Ulku Dereyurt, a 35-year-old housewife, says she can feel the change. Shopping for children's clothes at an Umraniye department store, she and her two sisters were all wearing the full black Muslim robe, with only their faces uncovered.
'Ninja Turtle'
Dereyurt said she used to feel nervous about going out that way, before the AK Party came to power. "People weren't kind," she said. "They were referring to me as a Ninja Turtle, and every time I entered a shop I was ignored. Now, uncovered women serving in the shops can smile at covered ones."
The social gains, in her mind, go together with the rise of Turkey's economy, and with a better-run Umraniye. Fifteen years ago, many local roads were unpaved and water cuts were routine, she said. "It was horrible." Her sister Sultan called Erdogan a good administrator as well as a good Muslim.
The case carries some weight among less religious Turks too, said Hamid of Brookings. Material gain "allows a lot of other people to say: Hey, maybe we're not totally comfortable with their social agenda but at least they're delivering the economic goods," he said.
World Bank figures show Turkey's gross domestic product per person rose to $10,800 in 2013 from $3,571 in 2002.  Inflation eased from more than 30 percent to single digits.
Turkish Model?
The advance, under an Islamist-rooted government, led to talk of a "Turkish model" for the Middle East, notably after the Arab Spring uprisings of 2011.
But the AK Party came to power at a much more propitious time. Its first term coincided with a flood of global liquidity looking for places to invest. Capital poured into Turkey and other emerging markets, changing the landscape of places like Umraniye, and giving Erdogan the aura of economic success.

Contrast that with 2012, when the Muslim Brotherhood's Mohammed Mursi came to power in Egypt, in a world economy stuck in the post-crisis slump, and a Middle East traumatized by revolts and civil war.
The differences don't stop here. While Erdogan's cohorts were governing big cities — and long before — the Brotherhood was operating as a largely underground and rural network in Egypt, dispensing aid but not really running anything. When Mursi did win national power, his government soon became a byword for ineffectiveness, even among sympathizers.
Erdogan still remains the most outspoken supporter of Mursi, who was toppled by the army in 2013. His government hosts prominent Brotherhood leaders in exile.
'Rabaa Sign'
Arriving in Istanbul in the crucial early hours of July 16 — with power in the balance and rebel warplanes still in the air — Erdogan greeted supporters with the four-finger gesture that's become known as the "Rabaa sign" after the square in Cairo where security forces killed hundreds of Mursi backers protesting his overthrow.
It's just as well for Erdogan and his party that they gained a reputation for administrative competence at home, according to Cornerstone's Nuseibeh. In other areas of governance — foreign affairs, defense and strategic alliances — "they have proved themselves very, very bad at it," he said.
Last year, Turkey almost caused a confrontation between NATO and Russia when its military shot down a Russian warplane. Pro-government media have also accused U.S. officials of being behind the coup, a charge they have strongly denied.
Given Up
Allies in the U.S. and Europe have largely given up on promoting a Turkish model. Erdogan has antagonized almost all of them. They point to the suppression of press freedom and judicial independence as evidence of a country headed deeper into one-man rule.
Which is where it began, almost a century ago. Ataturk was a secular autocrat, whose vision of a Westernized Turkey still commands loyalty among Erdogan's domestic opponents.

Smoking a cigarette in Istanbul's trendy Karakoy area, Murat, a 22-year-old student, said Turkey should rally around Ataturk's rules, not religion. Murat, who asked not to be identified by his surname, said he's bisexual and wants his country to become more like the Netherlands, so he can openly enjoy the lifestyle he chooses, without being judged.
Selin Sayek Boke, deputy chairman and spokeswoman of the secularist opposition CHP party, said the Turkish economy received financing not because the AK Party leadership "made the necessary reforms, but because conditions abroad were far worse." The worry now, she added, is that "changing global conditions could reverse the trend."
But Ataturk's political heirs haven't won an election since the 1990s. Officials in Erdogan's Turkey argue that their democratically elected, religiously oriented government represents a standard that will eventually prevail across the region.
Few Signs
For now, there are few signs of that. Islamist politicians suffered a generational defeat in Egypt. They proved unable to govern Tunisia after the 2011 revolution there — but relinquished power peacefully, and remain players. Brotherhood affiliates have been squashed in the U.A.E., strictly confined in Jordan, and overwhelmed by civil war in Syria. In Morocco, Islamist politicians hold office but the real power lies with the king.
Erdogan's Turkey was also starting to look frayed even before the coup, suffering a series of attacks by Kurdish and Islamic militants. And while economic growth has averaged almost 5 percent a year since 2002, it has slowed since 2013.

Since the failed coup, purges have ripped through the judiciary and schools as well as the army and police.
Turkey can only be an inspiration for other countries if it's democratic and economically successful, said Ozgur Unluhisarcikli, head of the German Marshall Fund of the U.S. in Ankara. "Who would be inspired by a failing society?"
From the Umraniye sports center, Erdogan's Turkey looks like a success. Its manager, Balik, talks about a transformation that goes beyond economic development, or the aesthetics of green soccer pitches replacing mounds of trash and rubble.
"It's changed the lives of children here, their psychology," he said. "They were playing in a garbage dump before."
—With assistance from Firat Kozok and Onur Ant.