markets
South Korea Ruling Party Seeks to Stem Infighting With New Chief
By
Saenuri party elects former Blue House spokesman as leader

President Park seen as lame duck after party defeat in April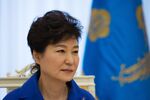 South Korea's ruling party picked a lawmaker loyal to President Park Geun Hye as leader after a rowdy convention that highlighted Park's struggle to combat lame duck status with less than 18 months until the next presidential election.
The Saenuri party late Tuesday elected Park's former aide Lee Jung Hyun as chairman in a divisive party election. The vote pitted her backers against a growing cadre of critics who blame the president for the party's woes -- including its poor showing in an April general election -- and its weakening grip on power.
The meeting highlights the need for Park to stem the infighting to get some momentum for her economic agenda in the National Assembly. Due to step down after a single term, Park's promised reforms to the labor market, and her pledges to boost the service industries and enhance cybersecurity have failed to get support in parliament at a time when the economy has been squeezed by falling exports and rising unemployment.
Lee is the first lawmaker from South Jeolla province, a stronghold for more liberal-leaning elements within Saenuri, to lead the conservative party. He won the party post with 41 percent of the vote to see off three other candidates.
"I declare that from this moment no pro-Park or non-Park factions shall exist," Lee said during an acceptance speech. "I will reform the party structure and bring back public confidence and pave the way to victory in the upcoming presidential elections."
'Great Leap'
Stressing the importance of party support, Park made a surprise appearance at the convention Tuesday at an indoor stadium, urging the 10,000 members in attendance to stand together as "I spend the remainder of my term in office to lay the foundation for another great leap forward."
"Politics should be changed," Park said to a scattering of applause. People want politicians who "put forth their best efforts with the right values, not ones who change to get votes and take advantage of populism," she said.
Divisions within the party widened after the April election, where Saenuri confounded pre-vote forecasts by failing to gain a majority. Instead of the 180 seats as some Korean media had projected, the party was reduced to 122 seats in the 300-seat National Assembly.
Park's hard-line stance on nuclear-armed neighbor North Korea failed to sway voters while a slumping economy may have weighed on her support. The youth unemployment rate hit a record just ahead of the election.
To read about South Korea's general election in April, click here
Support for both Park and her party have tumbled. Park, whose approval rating reached a high of 43 percent in early April, saw it erode to 33 percent in the most recent Gallup Korea survey conducted last week. The Saenuri party's rating slipped from 39 percent to 31 percent in the same period.
"The left's landslide handicapped her, especially domestically," said Robert Kelly, a political science professor at South Korea's Pusan National University.
The key now for Park is to move through the gridlock in parliament. She must also counter a domestic backlash against her decision to deploy a U.S. missile shield called Terminal High-Altitude Area Defense on South Korean soil. The move has spurred protests in Seongju, a mountainous region more than 200 kilometers (125 miles) southeast of Seoul, where Thaad would be based.
'Lame Duck Period'
Protesters have raised environmental and health concerns with the installation of radars that would be part of the system. Park last week said the government may consider another location.
"President Park's lame duck period has already begun," Park Sungil, who described himself as a supporter of a "non-Park" candidate for party chair, said before voting Tuesday. "I think the hasty Thaad announcement made the lame duck come even faster."
To read about the Thaad missile defense and China's opposition, click here.
Park has said Thaad is needed to defend against increasing provocations from North Korea, which has stepped up tests of ballistic missiles following a nuclear test in January. China has threatened unspecified retaliation if Seoul and Washington don't cancel plans for the missile shield, which it views as a threat to regional security.
The political rift over Thaad intensified this week as six opposition lawmakers traveled to China to talk to Communist Party officials about the deployment plans. Park at first asked the lawmakers to cancel the trip and then criticized them for going.
— With assistance by Peter Pae
Before it's here, it's on the Bloomberg Terminal.
LEARN MORE