markets
Stevens Tries to Shake Aussie Apathy, Warns RBA Rate No Cure-All
By
Central bank governor delivers final official speech in Sydney

Says inflation target has flexibility to allow undershooting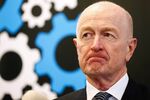 Glenn Stevens used his final speech as central bank governor to try to shake Australia out of its torpor.
The longer-term outlook he painted was fairly bleak: an extended period of low growth; debt-laden households with restricted borrowing capacity; monetary policy approaching its limit; a gaping budget deficit that must be filled; productivity-enhancing reform that needs to be implemented; and a lack of government-financed infrastructure.
"We are living in a world in which the ability of monetary policy alone to boost growth sustainably is very likely to be a good deal more limited than we might wish," Stevens said in a speech to market economists in Sydney Wednesday. "So we need realism about how much we can expect monetary policy to do, including pushing inflation up quickly."

Australia has joined the developed world in struggling to generate sufficient inflation to meet its target, and the central bank last week cut interest rates to a record-low 1.5 percent to encourage hiring and support growth. The governor acknowledged in his speech that Australia had little choice but to significantly ease policy, given areas like Europe and countries like Japan are running zero or negative rates and bond-buying programs.
"The central banking community globally has found itself doing unprecedented things," he said. "We in Australia have done fewer such things, but we are connected to the world, and the effects of policies adopted elsewhere condition the policy choices available to us."
Stevens was forthright in his advice to government: it needs to bring the budget into the black while investing in infrastructure. That's a Herculean task in a country that's lacked a preeminent political leader for almost 10 years and hasn't managed to implement a serious economic reform in more than 15 years. The governor also took aim at lobby groups and special interests that had shot down past efforts at fiscal repair.
'Kidding Ourselves'
"At present, general public debate starts with commitment to the need for reform and for putting public finances on a sustainable medium-term track," he said. "But when specific ideas are proposed that will actually make a difference over the medium to long term, the conversation quickly shifts to rather narrow notions of 'fairness,' people look to their own positions, the interest groups all come out and the specific proposals often run into the sand." 
"If we think this rather other-worldly discussion will not have to give way to a more hard-nosed conversation, we are kidding ourselves," he said. "That will occur should there be a moment of crisis, but it would be better if it occurred before then."
Australia has managed to avoid crisis and even recession -- defined locally as two consecutive quarters of contraction -- for 25 years, lulling the political class and public into a false sense of security. This was reinforced by a decade-long, China-driven resource boom that rained cash on the economy. Stevens sought to shake that apathy.
Furthermore, under Stevens's stewardship, average inflation over the past 10 years was 2.5 percent, the midpoint of the Reserve Bank of Australia's 2 percent to 3 percent target. Unemployment averaged 5.3 percent in the period, the best decade-long run in at least 30 years.
Private Concern
Stevens had a further shot at the political class and electorate when it came to debt, noting that huge attention was devoted to government liabilities, which when combined at all levels stands at about 40 percent of gross domestic product. Meanwhile, gross household debt is three times that at 125 percent.
"Popular debate in Australia about government debt and how we limit or reduce it seems so often to be conducted while largely ignoring the size of private debt," he said. "To outside observers this seems odd. Foreign visitors to the Reserve Bank over the years have tended to raise questions about household debt much more frequently than they have raised questions about government debt. So the way ahead is going to have to involve a rather more nuanced consideration of all these issues."
'Aircraft Wing'
The governor then mounted a powerful defense of the inflation targeting regime that he said has served Australia well for more than 20 years. The key issue for such a framework was whether it had sufficient flexibility, he said, noting that those that failed like the gold standard and exchange rate pegs did so because of their rigidity.
"Frameworks that have a degree of flexibility, that can bend with the circumstances but retain their essential integrity, like an aircraft wing in turbulence, stand a reasonable chance of coming through," said Stevens, an amateur pilot.
"If it were the case that undershooting the target for a period while achieving reasonable growth was the 'least bad' option available, the inflation targeting framework has the requisite degree of flexibility to allow such a course," he said.
Before it's here, it's on the Bloomberg Terminal.
LEARN MORE