Rare Brexit Optimist Calls for Pound to Climb Back Toward $1.50
Currency veteran expects London to retain financial status.
By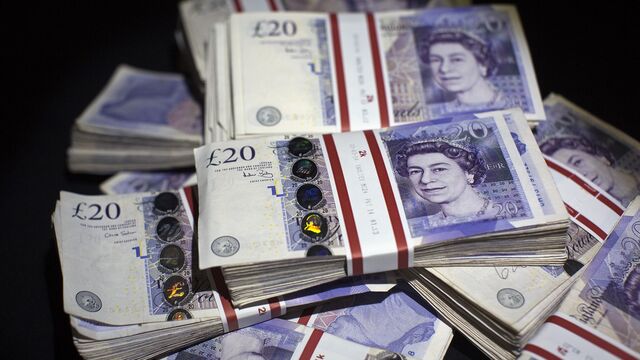 The pound trading at $1.50 may seem like a distant memory, yet a few voices see it fully recovering from the Brexit sell-off.
A weaker pound will support growth and restore balance in the U.K. economy, while the country will be able to strike a deal in exit talks with the European Union that maintains its competitiveness, said Stephen Jen, chief executive of investment company Eurizon SLJ Capital Ltd. The pound may take a couple of years to return to a pre-Brexit level, he said.
"We will not lose sight of this view,'' said Jen, a 20-year veteran of foreign exchange markets. "The U.K. is going to perform very well outside the European Union, but this is a long term view. Brexit could be a very interesting journey for the two parties involved."
His call on sterling, which traded near $1.31 on Wednesday, assumes London retains its status as a global and regional financial center. It contrasts with a median forecast by economists surveyed by Bloomberg for $1.33 at the end of 2017 and $1.42 in 2018. While no one sees it above $1.50 by the end of next year, Barclays Plc, ING Financial Markets, Prestige Economics LLC and BNP Paribas SA also see it above $1.50 by the end of 2018.

U.K. Prime Minister Theresa May will face an array of demands from EU nations in negotiating Britain's future relationship with the bloc, according to a Bloomberg analysis of the region's 27 other members. Jen said the City of London did not attain its status because of the U.K.'s EU membership, but for its rule of law, transparency, use of English and labor market flexibility.
"How can Paris become a financial center if you can't fire anyone there?" Jen said.
Jen, 50, previously worked for the International Monetary Fund and is known for the 'dollar-smile' theory he developed while at Morgan Stanley, which predicts gains for the dollar during times when the U.S. economy is either in a deep slump or growing strongly. He declined to disclose the size of his fund or its positions on the pound.
The currency this month suffered its longest losing streak since May, after the Bank of England cut interest rates for the first time since 2009 and exceeded market expectations on quantitative easing in a post-Brexit stimulus package.
Before it's here, it's on the Bloomberg Terminal.
LEARN MORE