Pitfalls of Global Yield Hunt Exposed in Mongolia, Ukraine Routs
by
Bonds slide on Mongolia crisis warning, flare up in Crimea

Countries' bonds among best performers in rush to high yields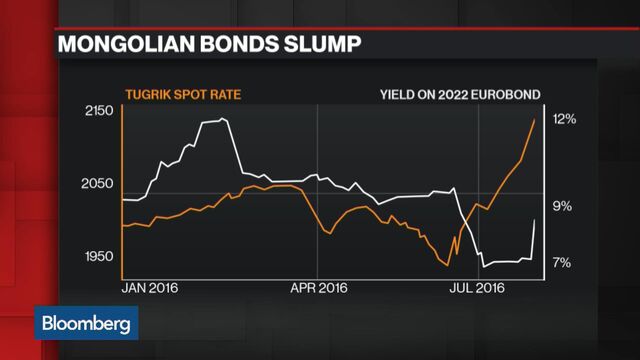 Investors who piled into some of the world's riskiest bonds to escape near-zero interest rates got a reality check this week as signs of an economic crisis in Mongolia and a flare up in the conflict in Ukraine sent their bonds tumbling.
Mongolia's $1 billion of notes due in six years fell the most on record on Wednesday after the finance minister went on television to say his critical goal was to avoid default as growth slows and the debt burden soars, prompting Barclays Plc to remove its overweight recommendation. A slump in Ukrainian Eurobonds sent yields toward their biggest one-day increase since February on Thursday after officials in Kiev warned Russia is seeking to escalate a military conflict over the disputed Crimean peninsula.

"Central bank policy has given investors a license to move down the risk spectrum," Gregory Saichin, who helps manage $2.4 billion, including Mongolian bonds, as chief investment officer for developing-world fixed-income at Allianz Global Investors. "The risks are there. People shouldn't come into a story like this and say they didn't know about it," he said of Mongolia's economic woes.
After cash poured into debt funds tracking emerging nations at the fastest pace on record last month, the shock to both countries' bond markets highlights the dangers of plowing into junk-rated credits. Mongolian and Ukrainian bonds have offered some of the highest returns in a rally fueled by accommodative policies in the developed world, as money managers turned to more exotic issuers for yields about four percentage points above the emerging-market average.
Bonds Slide

Mongolian Finance Minister Choijilsuren Battogtokh rattled investors with forecasts that the country's ratio of government debt to gross domestic product will reach 78 percent this year, compared with a budget target of 55 percent. Yields on bonds maturing in December 2022, rated five steps below investment grade, surged 125 basis points to 8.39 percent on Wednesday, the highest since July 1. The rate fell 21 basis points on Thursday.
Ukrainian bonds followed suit today as officials warned accusations from Russian President Vladimir Putin that Ukrainian agents have engaged in "terror" tactics on the disputed Crimean peninsula may be a ploy to justify an escalation of the military conflict in its neighbor. Yields on Ukraine's bonds maturing in 2022 climbed 31 basis points to 8.07 percent, the most since Feb. 24. The rate reached a record low earlier this week.
'Think Twice'
Bonds have been rallying worldwide as investors bet the Federal Reserve is in no rush to boost interest rates. Emerging-market sovereign debt returned 6.5 percent in the past 10 weeks as investors added about $14 billion to exchange-traded funds that buy stocks and bonds, bringing this year's inflows to a record $15.3 billion, according to data compiled by Bloomberg.
"The global hunt for good yield continues and this provocation isn't serious enough to put investors off," said Vitaliy Sivach, a trader at Investment Capital Ukraine in Kiev. "Most people hope that Russia won't have enough will to go to full scale war with Ukraine."
Ukrainian bonds have handed investors 16 percent returns in 2016 as fighting died down with pro-Russian separatists. Putin's invasion of Crimea more than two years ago triggered a standoff between the countries that weakened Ukraine's economy and forced the government in Kiev to restructure its bonds.
Inflows into emerging-market bonds probably won't let up despite the risks from individual markets as rates in the major economies are still set to stay lower for longer, according to Andrew Macfarlane, an emerging-markets credit strategist at BNP Paribas SA in London.
"Stories like Mongolia will clearly make investors think twice," he said. "The technicals are so strong right now that idiosyncratic stories will not force investors to change their overall strategy."
Before it's here, it's on the Bloomberg Terminal.
LEARN MORE