markets
Duterte's War on Online Gambling Prompts Gaming Tycoon's Exit
By and
'Clearly I am the target,' Ongpin says of Philippine president

Businessman says will sell his entire 53.76% stake in PhilWeb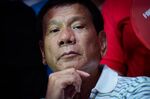 Former PhilWeb Corp. Chairman Roberto Ongpin, singled out by Philippine President Rodrigo Duterte in a campaign to end the influence of big businesses on the government, said he will sell his stake to protect the electronic gambling company and its workers.
Duterte on Aug. 3 named Ongpin as among the businessmen he says have undue influence on the government and whom the newly installed head of state wants to "destroy" as he seeks to end online gambling in the country. The tough comments caused PhilWeb shares to plunge by a record and forced Ongpin to resign from the company.
"I was hit by a lightning," Ongpin said in a phone interview before an emergency shareholders meeting Wednesday, referring to Duterte's rebuke. "I will auction my shares to the highest bidder." The 79-year-old said he owns 53.76 percent of Manila-based PhilWeb, a supplier of electronic gambling software he founded in 2000.
The Philippine Stock Exchange on Wednesday approved PhilWeb's request for a voluntary trading suspension until Aug. 23. The gaming company's shares have fallen 70 percent since Aug. 3 through Tuesday, wiping out about 14 billion pesos ($300 million) in market value. The stock exchange's main index rose 2 percent during the period.
'Destroy Oligarchs'
Ongpin served as trade minister under Ferdinand Marcos until the late Philippine dictator was ousted in 1986, after which the Harvard-trained businessman rebuilt his clout to become among the country's most prominent, and its 20th-richest person as ranked by Forbes. Naming Ongpin in his Aug. 3 speech, Duterte said he wants to end the tycoon's influence.
"Destroy the oligarchs that are embedded in government now," said Duterte, who was elected president in May and took office June 30. "These are the guys who just sit in their jets and in their mansions everywhere, and their money trickle like a taxi meter."
At the meeting for shareholders held in Manila on Wednesday, Ongpin said the auction for his PhilWeb stake will be held until Aug. 17, and the winning bidder will have the option of withdrawing if the company's contract to supply software to government-licensed Internet gambling cafes isn't renewed by the end of August.
Gaming Parlors
Philippine Amusement and Gaming Corporation or Pagcor, the state-owned gambling company that also functions as a regulator, had said on Tuesday it won't renew PhilWeb's contract supplying to these so-called e-Games cafes, which offer electronic casino games such as baccarat, blackjack, slot machines and video poker.
Without the license, PhilWeb would need to be sold "at a huge discount but only based on its value as a listed company that can be used to list other assets or companies," said First Grade Finance Inc. managing director Astro del Castillo. "They'll have a tough time finding a buyer without PhilWeb's main business and given Duterte's stance against online gaming."
 
There are 287 e-Games parlors in the Philippines run by 137 operators, and these will need to shut at midnight as PhilWeb's contract to supply them with games expires Aug. 10, the company's president Dennis Valdes said at the meeting, which was open to media.
"It will make no sense for anyone to buy PhilWeb if they can't get a license. I am doing this auction so I can totally be out of the picture," said Ongpin. About 5,000 people work in the parlors, according to the businessman.
— With assistance by Clarissa Batino
(
Updates with Ongpin's comments at shareholders meeting in seventh paragraph, analyst comment in ninth.
)
Before it's here, it's on the Bloomberg Terminal.
LEARN MORE