OPEC Says Weak Oil Demand Is Here to Stay
by
Refiners in U.S., Europe could cut purchases on weak profits

Bloc's output rises to 33.1 million barrels a day in July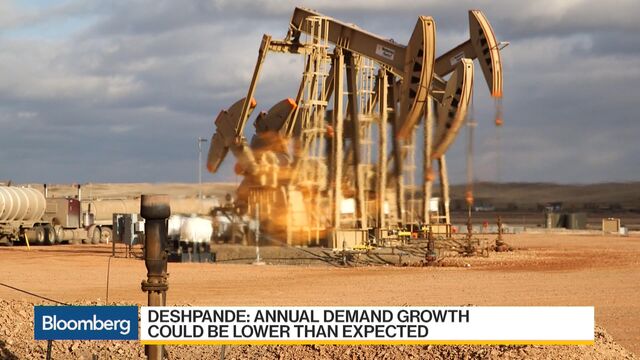 Weakness in global oil markets, which has dragged prices to a three-month low, may persist as demand slows seasonally and fuel inventories remain abundant, OPEC predicted.
There are "lingering concerns" that U.S. and European refiners may reduce processing rates as profits fade amid a continuing "overhang" of crude and refined fuels, the Organization of Petroleum Exporting Countries said in its monthly report. Gasoline consumption will taper off in the U.S. with the end of the summer-vacation driving season, it said.
"With the end of the driving season in the third quarter, gasoline demand could see a seasonal downward correction," the organization's Vienna-based research department said. High inventories of heating oil and diesel fuel around the world mean "the supply side could also continue exerting pressure," it said.
Oil's recovery from the 12-year lows reached in January sputtered out in early June amid plentiful stockpiles, faltering demand growth and signs that U.S. explorers could resume drilling. OPEC, which is sticking with a strategy to maximize its market share and let prices sag, said Monday it will hold informal talks on the sidelines of a conference in Algiers next month.
Weaker Margins
Brent futures traded at $44.92 a barrel on the ICE Futures Europe exchange at 12:09 p.m. in London, having sunk to $41.51 on Aug. 2, the lowest intraday price since April 18.
"Refining margins have been weakening during the last month due to high product inventories, which were caused by the lower-than-expected increase in demand," according to the report.
The re-balancing of world markets will resume towards the end of the year, according to OPEC. Consumption will pick up in the Northern Hemisphere as winter approaches, reversing some of the discount on oil prices for immediate delivery and whittling away the excess in inventories, OPEC forecast.
Production from OPEC's members increased by 46,400 barrels a day to 33.106 million a day in July, according to external sources compiled by OPEC. That's in line with the level the group expects will be needed in the third quarter. OPEC included Gabon, which became its 14th member on July 1, in both June and July production totals.
Production from Saudi Arabia, the group's biggest member, was mostly stable at 10.477 million barrels a day in July, according to the external sources. The report also includes production data reported directly by member countries, which showed Saudi output rising by 123,000 barrels a day to 10.673 million a day. Iraq's direct submission showed its output rising by 57,000 barrels a day last month to 4.606 million a day.
OPEC kept estimates for global supply and demand this year and next mostly unchanged from last month's report.
Before it's here, it's on the Bloomberg Terminal.
LEARN MORE