markets
Oil Rises to 3-Week High After Saudi Comments on Producer Talks
By and
Saudis say producers may discuss action on output: Reuters

Record demand from refiners to erode bloated stockpiles: IEA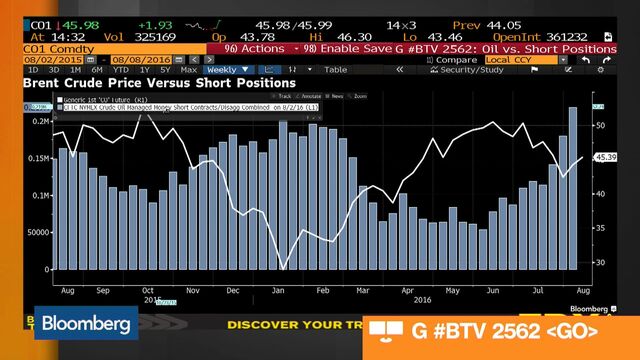 Crude closed at its highest in three weeks amid speculation that major producers could agree on moves to support prices at September talks.
Futures surged 4.3 percent in New York. Talks with oil producers in Algiers next month could include action to stabilize the market, Saudi Arabia's energy minister said, according to Reuters. Differences between Saudi Arabia and Iran caused the demise of a proposal to freeze production at an April summit in Doha. Both countries have boosted output since that meeting.

"The market is obviously keying off the Saudi comments about the upcoming talks," said John Kilduff, partner at Again Capital LLC, a New York hedge fund focused on energy. "There's a greater likelihood that they will be able to pull something together this time, with Iran getting a lot closer to its target and the Saudis being more flexible."
Oil has fluctuated after tumbling more than 20 percent into a bear market last week. Growth in demand will shrink brimming crude stockpiles even as Saudi Arabia, Kuwait and the United Arab Emirates pump at all-time highs amid competition between members of the Organization of Petroleum Exporting Countries to secure market share, the International Energy Agency said.
West Texas Intermediate for September delivery rose $1.78 to settle at $43.49 a barrel on the New York Mercantile Exchange. Prices touched $43.86, the highest intraday since July 25. Total volume traded was 25 percent above the 100-day average.
Short Covering
Brent for October settlement rose $1.99, or 4.5 percent, to close at $46.04 a barrel on the London-based ICE Futures Europe exchange. The global benchmark crude settled at a $1.81 premium to WTI for October delivery.
Money managers increased wagers on declining WTI crude prices to a record during the week ended Aug. 2 as futures dropped to the lowest in more than three months. Hedge funds boosted short positions to 218,623 futures and options combined, the highest in data going back to 2006, according to the Commodity Futures Trading Commission. The next Commitment of Traders report will be released Friday.
"This is a short squeeze, plain and simple," said Stephen Schork, president of the Schork Group Inc., a consulting company in Villanova, Pennsylvania. "You have a lot of folks who took out shorts, bets that the market will fall, and when you had hints that OPEC might do something they panicked. People who were burned back in March and April pulled the trigger."
Informal Talks
OPEC plans to hold informal talks to discuss the market at the International Energy Forum next month in Algiers. Saudi Arabia's oil minister said the country would act to help re-balance the market if needed, Reuters reported.
The April 17 talks in Doha failed after Saudi Arabia insisted it wouldn't restrain output without commitments from all OPEC members, including Iran, which had ruled out freezing output at that time. Iran has been seeking to boost crude production and exports after years of sanctions were lifted in January.
"Frankly I'm not sure that OPEC really needs to freeze here given the supply and demand situation seeming to come into balance," said Paul Crovo, a Philadelphia-based oil and equity analyst at PNC Capital Advisors. "We think the fundamentals will take care of themselves as we come into the third quarter and later into the fourth quarter and early 2017."
Record Volumes
Refiners around the world will process record volumes of crude this quarter to absorb all-time high production from several Persian Gulf producers, the IEA said. Refiners' crude processing this quarter will increase by 600,000 barrels a day from a year earlier to a record 80.6 million a day, according to a monthly report from the agency.
"The word of the day is 're-balance.' We're going to see heavy refinery runs, and that's going to draw down some of that crude overhang," said Michael Lynch, president of Strategic Energy & Economic Research in Winchester, Massachusetts. "Higher demand will also bring down the product inventories."
Oil-market news:
Rosneft PJSC's oil output grew in the second quarter amid a massive drilling surge, potentially marking a pivotal return to growth as Russia's largest producer weathers the slump in crude prices.
While shale drilling in the U.S. is on the rise again, prices need to climb nearer to $60 a barrel for U.S. producers to have a "substantial" boost in activity, the IEA said.
Before it's here, it's on the Bloomberg Terminal.
LEARN MORE