New Duke of Westminster Is Youngest Among World's 400 Richest
By
Family's $12.3 billion fortune passed to 25-year-old heir

Father died suddenly after falling ill at one of his estates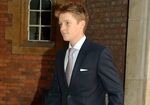 Hugh Richard Louis Grosvenor, who became the 7th Duke of Westminster after the sudden death of his father Tuesday, joins the Bloomberg Billionaires Index today as his inheritance makes him the youngest billionaire among the world's 400 richest people.
As duke, the 25-year-old now heads his family's $12.3 billion estate, which includes hundreds of acres in London's Belgravia and Mayfair neighborhoods, country homes, and Grosvenor Group, the London-based real estate firm with assets under management of 13 billion pounds ($19 billion) at the end of 2015.
"The Grosvenor Estate is subject to a 1933 Act of Parliament, the Grosvenor Estate Act, which effectively restricts inheritance to the male line," said Marilyn McKeever, a London-based lawyer at Berwin Leighton Paisner.
Grosvenor is four years younger than Wal-Mart Inc. heir Lukas Walton, the next youngest billionaire on the ranking. Walton entered the ranking in November 2015 when Bloomberg revealed that he had inherited the bulk of his father's fortune, not his mother, Christy, once thought to be the world's richest woman. Facebook Inc. co-founders Dustin Moskovitz and Mark Zuckerberg are next at age 32. Zuckerberg's $55 billion fortune, which has risen $9.2 billion this year, is almost one-and-a-half times larger than the combined $37 billion net worth of the other three.
While the new duke takes responsibility for the fortune through the inherited title, his wider family, including his mother and three sisters, still stand to benefit. Grosvenor Estate's trustees hold its assets for current and future members of the Grosvenor family, according to Grosvenor Group's website.
Gerald Cavendish Grosvenor died Tuesday afternoon at the Royal Preston Hospital in Lancashire after suddenly falling ill at his Abbeystead Estate in north England, according to the Press Association. No cause was given.
— With assistance by Patrick Gower, Andrew Heathcote, Neil Callanan, and Jeremy Hodges
Before it's here, it's on the Bloomberg Terminal.
LEARN MORE