NBA Rookie Simmons Gives Nike New Weapon Against Under Armour
by
Player gets $20 million deal as brand seeks younger buyers

Outside of Jordan line, Nike's basketball sales are flagging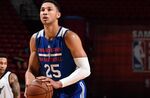 Nike Inc. could use a younger face on its roster of swoosh-wearing athletes to stave off a challenge from upstart Under Armour Inc. A 20-year-old Australian basketball player already being compared to Magic Johnson could be the ticket.
Ben Simmons, a 6-foot-10-inch forward chosen by the Philadelphia 76ers as the National Basketball Association's No. 1 draft pick, signed a five-year, $20 million contract with Nike in June, spurning an offer from Adidas AG, according to USA Today. The world's biggest sports brand will also throw in bonuses if the former Louisiana State University star makes the All-Rookie team or earns Rookie of the Year honors.
The signing comes at an opportune time for Nike. Outside of its perennially popular Michael Jordan brand, the company's basketball business is hurting. Basketball-related sales fell 1 percent to $1.38 billion in the fiscal year that ended May 31. Growth for North American futures orders slowed for a fourth straight quarter, suggesting that demand for Nike's products is waning. And the sports giant has also recently shaken up its management.
"They need to figure out who the next Kevin Durant or next Michael Jordan or the next LeBron is," said Paul Swinand, an equity analyst at Morningstar Investment Services. "They need a multiyear franchise personality. They need someone with global potential."
Nike declined to comment on the Simmons signing.
'Smart Decisions'
Although its $4.4 billion in annual revenue is dwarfed by Nike's $32.4 billion, Under Armour has been slowly edging into the market leader's turf. It's signed some of the biggest names in U.S. sports, including Most Valuable Players from the NBA, National Football League and Major League Baseball, plus golfer Jordan Spieth and skier Lindsey Vonn.
"Under Armour is one of those companies out there making smart decisions with their endorsers," said Matt Delzell, senior director of the celebrity talent group at the Marketing Arm, an agency specializing in sports and entertainment promotion. "The reason to pick Ben for Nike is just to make sure he doesn't go to one of their competitors."
Under Armour declined to comment on whether it had pursued Simmons.
When Nike Chief Executive Officer Mark Parker was asked in March who was the company's youngest big star, Parker said there were "quite a few in basketball." The only player he cited by name was 24-year-old Kyrie Irving of the Cleveland Cavaliers.
Simmons may change that.
Basketball analysts say the Melbourne native has the ability to become one of the league's most dominant players. Nike's most profitable star still playing, LeBron James, has praised the rookie's talent, saying Simmons has "all the tools" to succeed. James said he would act as a mentor and "big brother" to the rookie.
The hype around Simmons ratcheted up after he produced a season's worth of highlights in a handful of games last month during the NBA's Summer League. In his first matchup with other professionals, Simmons dazzled with behind-the-back passes and no-look assists, moves reminiscent of Johnson's flamboyance.
Steph Curry
Nike, which is sponsoring the U.S. men's basketball team in the Rio Olympics, still maintains contracts with most NBA players. In December, it signed James, a four-time MVP, to an unprecedented lifetime contract estimated to be worth $400 million to $500 million. But some analysts said the Beaverton, Oregon-based company might still be reeling from the one that got away: Stephen Curry.
In 2013, the company failed to match Under Armour's offer for the Golden State Warrior sharpshooter. Since then, Curry has unanimously been named the league's Most Valuable Player and led the Warriors to an NBA record number of wins last season.
Curry has helped expand the Baltimore-based company's prestige among young NBA fans. Curry's shoes now outsell the LeBron line, which is Nike's top-selling footwear category other than the Jordan brand, according to a Morgan Stanley analysis of SportScanInfo data published in March.
Simmons's deal with Nike is less than what James and Durant received 2003 and in 2007, their respective rookie seasons. James first contract with the sneaker giant was for $90 million over seven years, according to ESPN. Durant was paid $60 million over seven years.
James is 31 and has been playing for 13 years. Durant, who will play for the Warriors next season, is 27 and has been in the league since 2007. The addition of Simmons may help Nike stay relevant with fans looking for the next big thing, Delzell said.
"It's just a matter of staying young and staying connected to that 11-, 12- or 13-year-old kid who wants to wear the coolest shoe out there," he said.
Before it's here, it's on the Bloomberg Terminal.
LEARN MORE