markets
Mongolia Calls for Economic 'Crisis' Plan; Bonds Tumble
Michael Kohn
Finance Minister vows to keep Mongolia from defaulting on debt

Yield on 2022 securities climbed the most since notes sold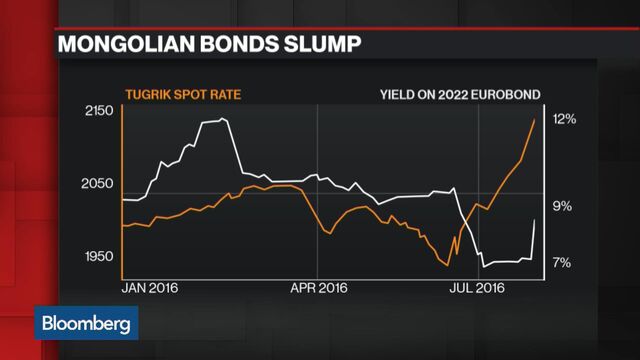 Mongolia is planning to set up a task force to deal with an "economic crisis'' that's led to slowing growth, a declining currency and a soaring budget deficit, the nation's finance minister said. Government bonds due in 2022 tumbled the most on record and the currency weakened.
"We came into a situation where we may not be able to afford to finance salaries and operational costs of government departments, such as the Mongolian military who protect our borders and national security, the social and health employees who are in charge public health, as well as individuals in culture and sport,'' Choijilsuren Battogtokh said in a nationally televised address on Tuesday. "We are in a deep state of economic crisis.''

Mongolia has suffered from falling commodities prices, an economic slowdown in China and waning interest by foreign investors spooked by anti-investment laws and inconsistent policy. Choijilsuren's comments come six weeks after the Mongolian People's Party trounced the Democratic Party in June elections, which appears to lay the groundwork for increased austerity measures.
Critical Goal
The task force will present its plan to the government and the National Security Council in the coming days, followed by a public announcement, said Choijilsuren, without mentioning details of the plan. He added that it is a "critical goal'' of the government to avoid default.
The government's $1 billion Eurobond due December 2022 fell 6.21 cents to 83.72 cents on the dollar, sending the yield up 138 basis points to 8.51 percent by 3:05 p.m. in London. The rate was as high as 12.05 percent in February amid a slump in copper prices, the nation's largest export revenue earner last year. Notes due in 2018 slid 3.5 percent to 93.61 cents on the dollar, sending the yield to 9.12 percent, the highest since April.
Mongolia sold $1.5 billion in sovereign debt in 2012, know as Chinggis Bonds, largely to finance road projects across the country. The government is scheduled to repay $500 million in 2018 and the rest in 2022. The Development Bank of Mongolia faces a $580 million repayment next year. In total, Mongolia has about $5 billion in general government debt, according to Choijilsuren.
"We do not believe the government wants to default or restructure," said Avanti Save, a credit strategist at Barclays Plc in Singapore, who cut the rating on the country's notes to market weight from overweight on Wednesday. "The government is engaging in some kitchen-sinking, announcing all possible bad news at once, and blaming the previous government for the country's challenging fiscal and debt dynamics."
Tugrik Tumbles
The tugrik fell for an 18th day, losing 0.3 percent to 2,138 against the dollar. The currency has declined 7.2 percent since the end of June, the third-biggest drop among more than 140 currencies tracked by Bloomberg worldwide.
The nation had international reserves of $1.3 billion at the end of June, a 23 percent decline from a year earlier.
"When you put these big boxcar numbers up there with all the foreign indebtedness into Mongolia it does create a pretty big number,'' Randolph Koppa, executive vice chairman of the Trade & Development Bank of Mongolia, said by phone. "I think that was a nice way of saying -- people we have issues and we need to tighten our belts.''
'Stiffer Policies'
Choijilsuren's address could be a prelude to some "stiffer policies'' that may include involvement with the International Monetary Fund or "more spending cutbacks that might not be popular among the citizenry,'' said Koppa.
Mongolia has had repeated bailouts from the IMF, the most recent during the global financial crisis in 2009.
Talk of an IMF package comes just five years after Mongolia posted a growth rate of about 17 percent, largely driven by construction of the first phase of the giant Oyu Tolgoi copper and gold mine. Commodity price declines and cratering foreign investment pushed GDP growth down to 2.3 percent last year. The government projects 1.3 percent growth in 2016.
Debt Burden
The Mongolian People's Party promised voters it would seek to ease Mongolia's government debt burden, which will reach 78 percent of GDP this year, according to Choijilsuren.
Prime Minister Erdenebat Jargaltulga earlier this month ordered his cabinet to prioritize attracting investment from within Mongolia as well as foreign sources, rather than seek loans or financial assistance.
One of Erdenebat's main tasks will be to lower the budget deficit, which jumped to 1.12 trillion tugrik ($523 million) in the first six months of 2016 and revised projections indicate it could top 5 trillion tugrik by the end of the year, said Choijilsuren.
"Never has a government received such a bad economic situation,'' he said.
— With assistance by Marton Eder
Before it's here, it's on the Bloomberg Terminal.
LEARN MORE