markets
JD.com Gains After Quarterly Loss Narrows, Revenue Rises 42%
David Ramli and Selina Wang
Shares up most in almost six months, paring year's losses

Third-quarter sales forecast missed analysts' estimates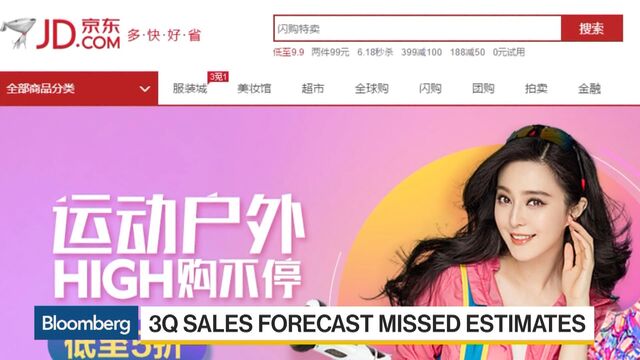 JD.com Inc. soared the most in almost six months after its quarterly loss narrowed substantially and revenue gained, showing the company benefited from selling a greater proportion of higher-margin products and gleaning more fees from merchants.
The shares jumped as much as 10 percent to $24.60 in New York, the biggest increase since Feb. 16. The stock was down 30 percent over the past 12 months through Tuesday.
Second-quarter sales rose 42 percent to 65.2 billion yuan ($9.8 billion), beating analysts' average forecast. The company reported its net loss narrowed to 132.1 million yuan, from 510.4 million yuan a year earlier, also better than projections.
Investors had been expecting revenue and margin pressure as the company weathers a record slowdown in smartphone and PC shipment markets. JD aims to woo shoppers via a direct-to-consumer model it says curbs counterfeits and sub-par merchandise. The company, which traditionally focused on electronics gadgets, has revamped its product mix and is increasingly selling on behalf of third-party (or 3P) merchants.
"General merchandise products such as apparel and cosmetics generate higher margins; whereas 3P business brings commission fees," Jessie Guo, an analyst at Jefferies & Co., wrote before earnings were released. Gross merchandise volume, the total value of goods sold on the platform, rose by 47 percent to 160.4 billion yuan in the June quarter.
JD is taking over Wal-Mart Stores Inc.'s Yihaodian online commerce operation in China, forging a deal with the U.S. retailer that may eventually lead to a boost in sales and lower logistics costs. But that business will take time to integrate. The company forecast sales of 59 billion yuan to 61 billion yuan in the current quarter ending September, compared with the 61.3 billion yuan that analysts had expected on average, as the company anticipates slowing consumption growth.
"We discontinued over 22,000 merchants in the first half," JD.com Chief Executive Officer Richard Liu said in a conference call after earnings. "By discontinuing these merchants we do suffer financial losses."
Before it's here, it's on the Bloomberg Terminal.
LEARN MORE