House Speaker Ryan Defeats Political Unknown in Primary
By
Wisconsin Republican wins amid anti-establishment climate

Trump backed Ryan after pressure from Republican leaders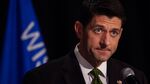 House Speaker Paul Ryan coasted to victory in a Republican congressional primary against a political unknown just days after getting a belated endorsement from the party's presidential nominee, Donald Trump.
Ryan of Wisconsin defeated businessman Paul Nehlen on Tuesday, according to the Associated Press, in his bid for a 10th term. With all precincts reporting, Ryan had 84 percent and Nehlen had 16 percent, according to the AP.
Trump backed Ryan last week, 46, under pressure from Republican leaders after earlier expressing reluctance to back his party's highest-ranking officeholder. Some depicted the race as a battle for the direction of the Republican Party, and Nehlen drew the support of some big names outside of Wisconsin, including political commentators Ann Coulter, Michelle Malkin, Sarah Palin and Phyllis Schlafly.
Nehlen, 47, had portrayed Ryan as  as a "soulless globalist" on issues such as trade and immigration, and accused him of "repeated betrayal" of Trump.
But the odds had remained long that Ryan would lose, even in this year's volatile political environment. First elected to Congress in 1998, he was the 2012 Republican vice presidential running mate to Mitt Romney and is himself a potential presidential contender. 
At a news conference in Wisconsin Tuesday night, Ryan thanked his supporters and said voters are looking for hope, not fear. "I'm humbled that so many want me to continue to work on their behalf," he said.
2014 Vote
Ryan won his 2014 primary with 94 percent of the vote. He took the speaker's job last year at the urging of colleagues after conservatives forced John Boehner of Ohio to resign.
Had Ryan lost to Nehlen, he would have been the first sitting House speaker since Democrat Tom Foley of Washington state to be defeated. Foley lost in a general election, though, not a primary within his own party.
Nehlen and his backers were hoping to gain a repeat of the stunning upset by David Brat in June 2014 over then-House Majority Leader Eric Cantor in a Republican primary for Cantor's Virginia congressional seat.
Ryan has been one of the best-known Republican figures and a spokesman for conservative principles with a blend of political acumen and policy wonkishness.
Ryan had described Nehlen's campaign as an out-of-state effort being bankrolled by "scam-PACs" selling a "nasty virulent strain of something" that's not conservatism. "And it's not what the Constitution says and it's not what conservatives, particularly Wisconsin conservatives, believe in," Ryan told a radio interviewer Friday.
'Good Campaign'
Trump had praised Nehlen for running "a very good campaign" and didn't endorse Ryan until last Friday. Ryan chose not to appear with Trump at a Green Bay event to receive the endorsement; his aides said he was too busy with other previously scheduled events in the state. He represents the 1st congressional district in southeastern Wisconsin.
Ryan's own endorsement of Trump on June 2 came after weeks of hesitation. He also has denounced a number of actions by the billionaire, including his plan to bar Muslim immigration to the U.S. and his attacks on a Gold Star family and on a Hispanic-American judge. Ryan has said he needed to speak out on occasion to keep people from mistakenly believing all Republicans' views are similar to Trump's.
What remains unclear is how long Ryan intends to hold on to the speaker's gavel if he wins re-election in November. Also uncertain is what effect the twists of the 2016 election cycle may have on any potential Ryan presidential candidacy.
Before it's here, it's on the Bloomberg Terminal.
LEARN MORE